A Name Unknown (#01 in Shadows Over England Series)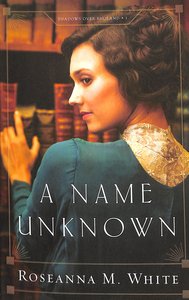 $

19.99

$

15.99
You Save: $4.00 (20%)
Paperback
Edwardian Romance and History Gains a Twist of Suspense

Rosemary Gresham has no family beyond the band of former urchins that helped her survive as a girl in the mean streets of London. Grown now, they concentrate on stealing high-value items and have learned how to blend into upper-class society. But when Rosemary must determine whether a certain wealthy gentleman is loyal to Britain or to Germany, she is in for the challenge of a lifetime. How does one steal a family's history, their very name?

Peter Holstein, given his family's German blood, writes his popular series of adventure novels under a pen name. With European politics boiling and his own neighbors suspicious of him, Peter debates whether it might be best to change his name for good. When Rosemary shows up at his door pretending to be a historian and offering to help him trace his family history, his question might be answered.

But as the two work together and Rosemary sees his gracious reaction to his neighbors' scornful attacks, she wonders if her assignment is going down the wrong path. Is it too late to help him prove that he's more than his name?

- Publisher
You May Also Be Interested In
About "A Name Unknown (#01 in Shadows Over England Series)"
Edwardian Romance and History Gains a Twist of Suspense

Rosemary Gresham has no family beyond the band of former urchins that helped her survive as a girl in the mean streets of London. Grown now, they concentrate on stealing high-value items and have learned how to blend into upper-class society. But when Rosemary must determine whether a certain wealthy gentleman is loyal to Britain or to Germany, she is in for the challenge of a lifetime. How does one steal a family's history, their very name?

Peter Holstein, given his family's German blood, writes his popular series of adventure novels under a pen name. With European politics boiling and his own neighbors suspicious of him, Peter debates whether it might be best to change his name for good. When Rosemary shows up at his door pretending to be a historian and offering to help him trace his family history, his question might be answered.

But as the two work together and Rosemary sees his gracious reaction to his neighbors' scornful attacks, she wonders if her assignment is going down the wrong path. Is it too late to help him prove that he's more than his name?
- Publisher


Meet the Author
Roseanna White
ROSEANNA WHITE is the author of two novels</br> and a senior reviewer for Christian Review of</br> Books. She grew up in the mountains of West</br> Virginia and now lives in Maryland with her</br> husband and two young children. Read more at</br> www.roseannawhite.com.
Customer Reviews For "A Name Unknown (#01 in Shadows Over England Series)"
Write Your Own Review
Wow!
By Jacqui,

Feb 02 2018
This book was beautiful, intriguing and hard to put down.  I loved Rosemary from the first page. She is a mixture of strength with a dash of vulnerability. Peter is such a contrast to her yet just as lovable. The mystery plot keeps you guessing until the end. This is a first of a series and although complete in itself leaves you wanting to read more of the stories of the rest of Rosemary's "family". Can't wait to read book 2.
---
A story of finding true identity
By Mezza,

Jan 15 2018
Roseanna M. White has done it again! A beautiful tale with intriguing plots intricately woven throughout the story. 

She is a thief. He is a writer suspected of espionage. What will happen when she is assigned to find proof of his disloyalty? When she finds out the astonishing truth, will she turn him in, or protect him? Protecting him will have dire consequences...

Loved this book! It was interesting to see how Rosemary's perspective of God changed throughout the course of the book. It was also good to see an insight of a writer's life. 
Would recommend for those who like historical, mystery romances. 
Can't wait to read the next book in the series!
---
Brilliant!
By Hannah,

Jan 08 2018
So excited to read the first book in a new series by Roseanna! And it didn't disappoint. Not in the slightest. I loved it! Fell in love with the characters from the first page, especially Rosie's pulled together family of street kids and pickpockets. The story was set at the start of WW1 and, though I don't usually read many wartime books, I was thoroughly intrigued by this one, feeling like I'd been transported back in time to live it alongside Rosie and Peter. History, intrigue, romance, hidden codes, beautifully flawed characters and the beauty of God's grace - how much more could you ask for! Loved this book and would highly recommend it. Can't wait for the next in the series and the chance to read more about this family. 

---
Excellent Edwardian Romance
By Iola,

Oct 22 2017
I'm always in two minds about Christian novels that have one character who, let's say, has issues with honesty. It's a basic tenet of the Christian faith, so an author who chooses such a character is often starting off on the wrong foot.

I'm also in two minds about novels in which one of the main characters is a novelist-it seems to break the fourth wall, as well as being a somewhat clich application of the writing principle, to 'write what you know'. But A Name Unknown quickly overcame both these possible issues.

A Name Unknown is historical romance with suspense elements. Peter is a Christian who prays, whose faith injects everything he does. He's an excellent hero, even if he's not the clich hero of the adventure novels popular with the Edwardian public.

There were a couple of factual glitches that only a non-American would notice, but these were minor and more than compensated for by the outstanding writing. Roseanna M White is a brilliant writer, and I'll be looking forward to the sequel to A Name Unknown.

Recommended for fans of Edwardian-era Christian romance. Thanks to Bethany House and NetGalley for providing a free ebook for review.
{{review.title}}
By {{review.author.name}},

{{review.reviewCreatedDate | date:'MMM dd yyyy'}}

{{reviewdescription}}
{{review.text}}
---
Other Titles In The "Shadows Over England Series" Series View All