A Nation Restored (Z Graphic Novels) (#08 in Kingdoms - A Biblical Epic Series)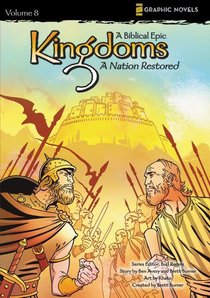 In the final book of the Kingdoms graphic novel series, Nehemiah, distressed that his homeland remains in a state of disrepair, is sent to Jerusalem to help complete the rebuilding of the city. But with the constant harassment of Sanballat and the other enemies of the Israelites, will Nehemiah be successful? Will the prophecies God gave to Zechariah prove to be true again?

- Publisher ENEMIES GATHER AS TIME RUNS SHORT With the support of a foreign king and divine favor, Nehemiah arrives in Jerusalem to rebuild its wall. While citizens join the effort to fortify the defenses, local governors who despise the idea of a reborn Jewish city gather their armies. Under this threat, can Nehemiah and his people build and defend the wall while also keeping the promise of hope alive for future generations?

- Publisher
You May Also Be Interested In
About "A Nation Restored (Z Graphic Novels) (#08 in Kingdoms - A Biblical Epic Series)"
In the final book of the Kingdoms graphic novel series, Nehemiah, distressed that his homeland remains in a state of disrepair, is sent to Jerusalem to help complete the rebuilding of the city. But with the constant harassment of Sanballat and the other enemies of the Israelites, will Nehemiah be successful? Will the prophecies God gave to Zechariah prove to be true again?
- Publisher

ENEMIES GATHER AS TIME RUNS SHORT With the support of a foreign king and divine favor, Nehemiah arrives in Jerusalem to rebuild its wall. While citizens join the effort to fortify the defenses, local governors who despise the idea of a reborn Jewish city gather their armies. Under this threat, can Nehemiah and his people build and defend the wall while also keeping the promise of hope alive for future generations?
- Publisher


Meet the Authors
Bud Rogers
Bud Rogers is a cartoonist and editor and has been very active in the Christian comics community for the past fifteen years. Bud uses his organizational and management skills to assist artists and writers in realizing their creative visions.
Ben Avery
Ben Avery is a high school teacher, a playwright, comic book writer, and active children's ministry worker. His work is designed to captivate readers and lead them to a closer relationship with Christ. He is the author of Kingdoms: A Biblical Epic and TimeFlyz. SPANISH BIO: Ben Avery es maestro de secundaria, autor dramatico, escribe tiras comicas y trabajador activo en el ministerio de ninos. Su trabajo esta disenado para cautivar a los lectores y llevarlos a tener una relacion con Cristo. el es el autor de las series, Reinos: Una epica biblica y Cronomoscas.