A New Handbook of Christian Theologians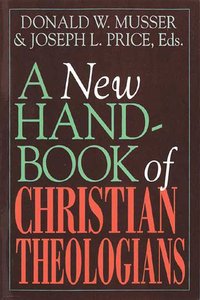 Covering theology from the apostolic church through the present, A New Handbook of Christian Theology is a valuable reference source for anyone interested in theology. Its encyclopedic style and cross-referencing make it easy to use and its broad scope offers a balanced look at the issues at the forefront of Christian theology. Where some theology reference books tend to focus on a period, such as the Reformation, A New Handbook of Christian Theology offers a scholarly look at the wide range of theological issues, ranging from election and atonement to liberation and feminist theology, throughout the history of the Church. Under the assumption that there is no dominant position governing all of Christian theology in our time, editors Donald Musser and Joseph Price chose to present a pluralistic and diverse view of the theological issues, including articles by women, minorities, and even geographically distant and diverse authors. Some of the contributors include: Jose Miguez Bonino, Langdon Gilkey, John Cobb Jr., Stanley Hauerwas, William L. Hendricks, Martin E. Marty, Jurgen Moltmann, Richard John Neuhaus, and Marjorie Hewitt Suchocki. For a full contributor listing, click the more info button. The editors have completely revised the first version of A Handbook of Christian Theology for this version, adding half again as many articles, and focusing on some contemporary issues. All in all, this book is a broad, scholarly look at the issues that have shaped Christian theology, and the issues which are still shaping Christian theology now. Indispensable for any serious student of theology.

- Publisher In recent years, the flow of Christian theology has been channeled in diverse streams represented by such trends and movements as black theology, liberation theology, feminist theology, and womanist theology. To survey this abundance and diversity of current Christian theology, this book examines the theologies of representative theologians. Particularly to help students navigate the sea of information, the editors have identified various routes for reading, and have traced several threads or issues common to many of the essays, thus demarcating such recurrent concerns as the ways in which the theologians consider the sources and goals for theology, their variant assumptions and conclusions about the nature of God, their divergent approaches to understanding the person and purpose of the Christ, and their distinct expectations for the destiny of history and faith.

- Publisher
You May Also Be Interested In
About "A New Handbook of Christian Theologians"
Covering theology from the apostolic church through the present, A New Handbook of Christian Theology is a valuable reference source for anyone interested in theology. Its encyclopedic style and cross-referencing make it easy to use and its broad scope offers a balanced look at the issues at the forefront of Christian theology. Where some theology reference books tend to focus on a period, such as the Reformation, A New Handbook of Christian Theology offers a scholarly look at the wide range of theological issues, ranging from election and atonement to liberation and feminist theology, throughout the history of the Church. Under the assumption that there is no dominant position governing all of Christian theology in our time, editors Donald Musser and Joseph Price chose to present a pluralistic and diverse view of the theological issues, including articles by women, minorities, and even geographically distant and diverse authors. Some of the contributors include: Jose Miguez Bonino, Langdon Gilkey, John Cobb Jr., Stanley Hauerwas, William L. Hendricks, Martin E. Marty, Jurgen Moltmann, Richard John Neuhaus, and Marjorie Hewitt Suchocki. For a full contributor listing, click the more info button. The editors have completely revised the first version of A Handbook of Christian Theology for this version, adding half again as many articles, and focusing on some contemporary issues. All in all, this book is a broad, scholarly look at the issues that have shaped Christian theology, and the issues which are still shaping Christian theology now. Indispensable for any serious student of theology.
- Publisher

In recent years, the flow of Christian theology has been channeled in diverse streams represented by such trends and movements as black theology, liberation theology, feminist theology, and womanist theology. To survey this abundance and diversity of current Christian theology, this book examines the theologies of representative theologians. Particularly to help students navigate the sea of information, the editors have identified various routes for reading, and have traced several threads or issues common to many of the essays, thus demarcating such recurrent concerns as the ways in which the theologians consider the sources and goals for theology, their variant assumptions and conclusions about the nature of God, their divergent approaches to understanding the person and purpose of the Christ, and their distinct expectations for the destiny of history and faith.
- Publisher


Meet the Author
Donald Musser (Ed)
Donald W. Musser is professor of religious studies at Stetson University in Deland, Florida.