A New Heaven and a New Earth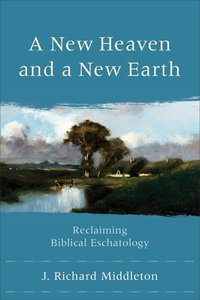 In recent years, more and more Christians have come to appreciate the Bible's teaching that the ultimate blessed hope for the believer is not an otherworldly heaven; instead, it is full-bodied participation in a new heaven and a new earth brought into fullness through the coming of God's kingdom. Drawing on the full sweep of the biblical narrative, J. Richard Middleton unpacks key Old Testament and New Testament texts to make a case for the new earth as the appropriate Christian hope. He suggests its ethical and ecclesial implications, exploring the difference a holistic eschatology can make for living in a broken world.

- Publisher
You May Also Be Interested In
About "A New Heaven and a New Earth"
In recent years, more and more Christians have come to appreciate the Bible's teaching that the ultimate blessed hope for the believer is not an otherworldly heaven; instead, it is full-bodied participation in a new heaven and a new earth brought into fullness through the coming of God's kingdom. Drawing on the full sweep of the biblical narrative, J. Richard Middleton unpacks key Old Testament and New Testament texts to make a case for the new earth as the appropriate Christian hope. He suggests its ethical and ecclesial implications, exploring the difference a holistic eschatology can make for living in a broken world.
- Publisher


Meet the Author
J Richard Middleton
J. Richard Middleton (Ph.D. from the Free University of Amsterdam) is associate professor of biblical studies at Roberts Wesleyan College and associate professor of Bible and culture at Northeastern Seminary, both in Rochester, New York. Middleton is the coauthor of Truth Is Stranger Than It Used to Be and The Transforming Vision, and the author of Liberating Image: The'The Imago Dei' in Genesis 1 and 1 & 2 Samuel (Abingdon Old Testament Commentary).-Editorial Review.
Table Of Contents
In Recent Years, More And More Christians Have Come To Appreciate The Bible's Teaching That The Ultimate Blessed Hope For The Believer Is Not An Otherworldly Heaven; Instead, It Is Full-bodied Participation In A New Heaven And A New Earth Brought Into Fullness Through The Coming Of God's Kingdom. Drawing On The Full Sweep Of The Biblical Narrative, J. Richard Middleton Unpacks Key Old Testament And New Testament Texts To Make A Case For The New Earth As The Appropriate Christian Hope. He Suggests Its Ethical And Ecclesial Implications, Exploring The Difference A Holistic Eschatology Can Make For Living In A Broken World.