A New History of Christianity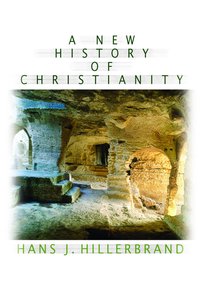 This history of Christianity is presented simply and straightforwardly to students with little or no experience in the academic study of religion.

- Publisher Told in easy-to-understand language with helpful time lines and selections from historical writings, this engaging new introduction will appeal especially to students with little or no experience in the study of religion. A New History of Christianity provides a definitive overview of the many persons, places, movements, and events necessary for the telling of our story, the story of the Church. It is a story told within the complex contexts of larger world events and world cultures, but defined and simplified by attention to those developments that have proven most influential. Knowing that the history of Christianity presents students with a daunting array of names and events, Hillerbrand focuses only on those that provide the best insights into Christianity's contribution to world culture, both past and present.

- Publisher
You May Also Be Interested In
About "A New History of Christianity"
This history of Christianity is presented simply and straightforwardly to students with little or no experience in the academic study of religion.
- Publisher

Told in easy-to-understand language with helpful time lines and selections from historical writings, this engaging new introduction will appeal especially to students with little or no experience in the study of religion. A New History of Christianity provides a definitive overview of the many persons, places, movements, and events necessary for the telling of our story, the story of the Church. It is a story told within the complex contexts of larger world events and world cultures, but defined and simplified by attention to those developments that have proven most influential. Knowing that the history of Christianity presents students with a daunting array of names and events, Hillerbrand focuses only on those that provide the best insights into Christianity's contribution to world culture, both past and present.
- Publisher


Meet the Author
Hans J Hillerbrand
Hans J. Hillerbrand is the former chair of the department of religion at Duke University. A recognized expert on the Reformation and the history of modern Christianity, he has published many articles and books on the period and was the editor in chief of "The Oxford Encyclopedia of the Reformation". He is the former president of both the American Academy of Religion and the American Society of Church History, and he lives in Durham, North Carolina.