A New Kind of Christian (#01 in A New Kind Of Christian Trilogy Series)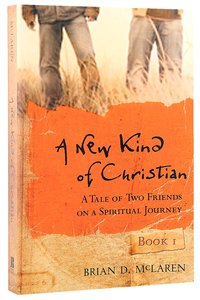 A conversation between a pastor and his daughter's high school science teacher reveals that wisdom for life's most pressing spiritual questions can come from the most unlikely sources. This stirring fable captures a new spirit of Christianity - where personal, daily interaction with God is more important than institutional church structures; where faith is more about a way of life than a system of belief; where being authentically good is more important than being doctrinally "right"; and where one's direction is more important than one's present location. Brian McLaren's delightful account offers a wise and wondrous approach for revitalizing Christian spiritual life and Christian congregations.



- Publisher For all those who are burned out on church or who want to be spiritual without being "religious," A New Kind of Christian offers a tale of spiritual renewal that both instructs and inspires. After many years as a church planter and pastor, author Brian McLaren has found-as more and more Christians are finding-that neither the conservative evangelical nor the liberal mainline stream of Christianity fully expresses his own developing faith. McLaren's engaging story gives voice to this emerging understanding of what it can mean to be a Christian in these dynamic times, offering a constructive vision of what a postmodern Christian might look like. A New Kind of Christian recounts a lively and intimate conversation between a pastor and his daughter's high school science teacher, in which they reflect together about faith, doubt, reason, mission, leadership, and spiritual practice in the emerging postmodern world. The pastor is forced to grapple with the deeper source of his dissatisfaction with Christianity as he has understood, practiced, and taught it -his reluctance to let go of the "modern model" of Christianity. Ultimately, he comes to understand that beyond the constricted categories, cliched rhetoric, and rigid mechanisms of modern Christianity lies a new possibility: a revitalized and vibrant faith that explores and expresses the teachings and mission of Jesus in a fresh, engaging way for third-millennium people. The author reminds us that this is but the beginning of the journey, and "whatever a new kind of Christian is, no one is one yet. . . . But every transformation has to start somewhere." For all who are searching for a deeper life with God and a more honest statement ofauthentic Christian faith, A New Kind of Christian will open the way for an exciting spiritual adventure into new territory and new ways of believing, belonging, and becoming. Brian McLaren is the founding pastor of Cedar Ridge Community Church in the Washington-Baltimore area and the author of two previous books on contemporary Christianity, including The Church on the Other Side: Doing Ministry in the Postmodern Matrix (2000).

- Publisher
Also Available In
You May Also Be Interested In
About "A New Kind of Christian (#01 in A New Kind Of Christian Trilogy Series)"
A conversation between a pastor and his daughter's high school science teacher reveals that wisdom for life's most pressing spiritual questions can come from the most unlikely sources. This stirring fable captures a new spirit of Christianity - where personal, daily interaction with God is more important than institutional church structures; where faith is more about a way of life than a system of belief; where being authentically good is more important than being doctrinally "right"; and where one's direction is more important than one's present location. Brian McLaren's delightful account offers a wise and wondrous approach for revitalizing Christian spiritual life and Christian congregations.


- Publisher

For all those who are burned out on church or who want to be spiritual without being "religious," A New Kind of Christian offers a tale of spiritual renewal that both instructs and inspires. After many years as a church planter and pastor, author Brian McLaren has found-as more and more Christians are finding-that neither the conservative evangelical nor the liberal mainline stream of Christianity fully expresses his own developing faith. McLaren's engaging story gives voice to this emerging understanding of what it can mean to be a Christian in these dynamic times, offering a constructive vision of what a postmodern Christian might look like. A New Kind of Christian recounts a lively and intimate conversation between a pastor and his daughter's high school science teacher, in which they reflect together about faith, doubt, reason, mission, leadership, and spiritual practice in the emerging postmodern world. The pastor is forced to grapple with the deeper source of his dissatisfaction with Christianity as he has understood, practiced, and taught it -his reluctance to let go of the "modern model" of Christianity. Ultimately, he comes to understand that beyond the constricted categories, cliched rhetoric, and rigid mechanisms of modern Christianity lies a new possibility: a revitalized and vibrant faith that explores and expresses the teachings and mission of Jesus in a fresh, engaging way for third-millennium people. The author reminds us that this is but the beginning of the journey, and "whatever a new kind of Christian is, no one is one yet. . . . But every transformation has to start somewhere." For all who are searching for a deeper life with God and a more honest statement ofauthentic Christian faith, A New Kind of Christian will open the way for an exciting spiritual adventure into new territory and new ways of believing, belonging, and becoming. Brian McLaren is the founding pastor of Cedar Ridge Community Church in the Washington-Baltimore area and the author of two previous books on contemporary Christianity, including The Church on the Other Side: Doing Ministry in the Postmodern Matrix (2000).
- Publisher


Meet the Author
Brian Mclaren
Brian D. McLaren (MA, University of Maryland) is founding pastor of Cedar Ridge Community Church, an innovative, nondenominational church in the Baltimore-Washington region. He's also a senior fellow with emergent village(www.emergentvillage.org), a growing generative friendship of missional Christian leaders.
He is the author of three best selling books on Emergent beliefs written in the form of fiction The Last Word and the Word after That; A New Kind of Christian: A Tale of Two Friends on a Spiritual Journey and The Story We Find Ourselves In: Further Adventures of a New Kind of Christian.
Two books on Finding Faith, A Search for what is Real and A Search for What makes Sense
Three books on Emergent evangelism and culture, More Ready than you Realise; The Church on the other side: Doing ministry in the Postmodern matrix, and A Is for Abductive: The Language of the Emerging Church
Three books on Kingdom beliefs, A Generous Orthodoxy, The Secret Message of Jesus, and Everything must change: Jesus, Global Crisis and a Revolution of Hope. and a book on Emergent Spirituality Finding Our Way Again: The Return of the Ancient Practices .
Table Of Contents
Preface To The Paperback Edition. Acknowledgments. Introduction: The True Story Behind This Story. 1. Sometime The Peacock Wish To Be The Seagull. 2. Entering That Awkward Age, Or Does Jonah Eat Bagels? 3. Dan Discovers Where The Cross Meets The Dream Catcher. 4. What A Difference A Worldview Makes. 5. Neo Worries About Keeping Up With Jesus. 6. Hot Words About Biblical Interpretation. 7. Letting The Bible Read Us. 8. Yeah, But What About The Other Guys? 9. Redeeming Our Culture Over Dinner. 10. C. S. Lewis In The Pulpit, Or What Is Heaven About Anyway? 11. Getting Beyond Righteousness. 12. French Fries And The Kingdom Of God. 13. Spiritual Practices: Secret And Shared. 14. It's None Of Your Business Who Goes To Hell. 15. Beginning The Journey Into Terra Nova. 16. Notes On Church Leadership From One Certified Nobody To Another. Afterword. Notes. About Leadership Network. Leadership Network Titles. The Author.
Other Titles In The "A New Kind Of Christian Trilogy" Series View All