A New Perspective on Jesus (Acacia Studies In Bible And Theology Series)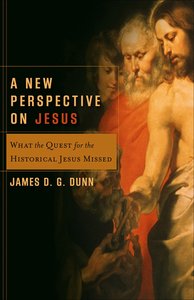 In this compelling study, renowned author James D. G. Dunn provides a critique of the quest for the historical Jesus. Dunn claims that the quest has been misguided from the start in its attempt to separate the historical Jesus from the Christ of faith.

Dunn argues that Jesus scholars have consistently failed to recognize how the early disciples' pre-Easter faith and a predominantly oral culture shaped the way the stories about Jesus were told and passed on. Dunn also examines the implications of oral transmission for our understanding of Synoptic relationships.

A New Perspective on Jesus proposes a change in direction for Jesus scholarship. It will be of interest to pastors, church leaders, students, and thoughtful laypersons wanting a fresh perspective on Jesus studies.

- Publisher
You May Also Be Interested In
About "A New Perspective on Jesus (Acacia Studies In Bible And Theology Series)"
In this compelling study, renowned author James D. G. Dunn provides a critique of the quest for the historical Jesus. Dunn claims that the quest has been misguided from the start in its attempt to separate the historical Jesus from the Christ of faith.

Dunn argues that Jesus scholars have consistently failed to recognize how the early disciples' pre-Easter faith and a predominantly oral culture shaped the way the stories about Jesus were told and passed on. Dunn also examines the implications of oral transmission for our understanding of Synoptic relationships.

A New Perspective on Jesus proposes a change in direction for Jesus scholarship. It will be of interest to pastors, church leaders, students, and thoughtful laypersons wanting a fresh perspective on Jesus studies.
- Publisher


Meet the Author
James D G Dunn
James D G Dunn (Ph.D., Cambridge, D.D.) is Lightfoot Professor Emeritus of Divinity in the University of Durham, England. He is the author of numerous books on the New Testament, including several important commentaries on various epistles of Paul, Romans 1-8, Romans 9-16 (Word Biblical Commentary, 2 vols.), Galatians (Black's New Testament Commentaries), and Colossians and Philemon (New International Greek Testament Commentary) and Christian Liberty: A New Testament Perspective (with Alan M. Suggate), The Justice of God: A Fresh Look at the Old Doctrine of Justification by Faith. His expertise on oral transmission is captured in the two volumes Jesus Remembered: Christianity in the Making, Volume 1 and Beginning from Jerusalem: Christianity in the Making, Volume 2 .
Other Titles In The "Acacia Studies In Bible And Theology" Series View All