A New Testament Biblical Theology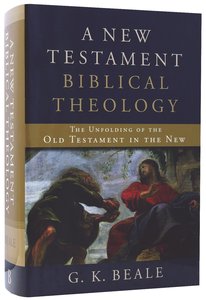 "Certainly Beale has written his magnum opus, in which he deftly integrates the Scriptures via the new creation theme. We stand in debt to the author for his detailed and profound unfolding of New Testament theology."
- Thomas R. Schreiner, The Southern Baptist Theological Seminary

In this comprehensive exposition, a leading New Testament scholar explores the unfolding theological unity of the entire Bible from the vantage point of the New Testament. G. K. Beale, coeditor of the award-winning Commentary on the New Testament Use of the Old Testament, examines how the New Testament storyline relates to and develops the Old Testament storyline. Beale argues that every major concept of the New Testament is a development of a concept from the Old and is to be understood as a facet of the inauguration of the latter-day new creation and kingdom. Offering extensive interaction between the two testaments, this volume helps readers see the unifying conceptual threads of the Old Testament and how those threads are woven together in Christ. This major work will be valued by students of the New Testament and pastors alike.

"It is tempting to confess that dogmaticians merely rummage around in the mines of biblical theologians. With this volume, the quarry has been enlarged and deepened, exposing the richest veins. I found it to be not exactly a page-turner, but rather on almost every page I discovered another spot at which to linger before moving on. Drawing on decades of exegetical research and teaching, A New Testament Biblical Theology exists at the intersection of biblical studies and theology. Carrying on the tradition of Geerhardus Vos, Professor Beale has raised the bar for biblical theology in our day. We will be digesting this volume for many years to come."
- Michael Horton, J. Gresham Machen Professor of Systematic Theology and Apologetics, Westminster Seminary California

"This New Testament biblical theology makes the Old Testament storyline the point of departure for exploring the New Testament message. Beale's volume is far reaching, written at a high scholarly level, and conversant with a wide range of scholarship. Even where one may disagree, Beale's treatment is always informative and at times even provocative. A very important contribution to biblical theology that deserves to be widely read."
- Andreas J. Kostenberger, senior professor of New Testament and biblical theology, Southeastern Baptist Theological Seminary

"A magnificent achievement! Rarely does a volume in biblical studies come along with such breadth, depth, insight, and specificity. It is a brilliant reconstruction of themes that are central to Christian faith. This is a landmark accomplishment."
- David F. Wells, distinguished research professor, Gordon-Conwell Theological Seminary

"The canonical scope and focus on the biblical storyline give Beale's New Testament Biblical Theology a unique place among the many New Testament theologies now available. The book is vintage Beale, creatively making connections between Old Testament and New Testament and pursuing a definite vision of how the Bible hangs together."
- Douglas J. Moo, Kenneth T. Wessner Professor of New Testament, Wheaton College

"Some New Testament theologies emphasize the distinctiveness of each author or book; others seek a center or unifying theme. Beale's work is decidedly in the second category as he demonstrates new creation as an umbrella category covering all of the other major motifs not only in the New Testament but also in the relevant Old Testament and Second Temple Jewish background material. Along the way, readers are treated to outstanding up-to-date discussions of most of the main topics they have come to expect and some new ones, especially in light of intracanonical connections. Throughout, Beale is thoroughly evangelical and thoroughly scholarly. This work is a true tour de force."
- Craig L. Blomberg, distinguished professor of New Testament, Denver Seminary



- Publisher
You May Also Be Interested In
About "A New Testament Biblical Theology"
"Certainly Beale has written his magnum opus, in which he deftly integrates the Scriptures via the new creation theme. We stand in debt to the author for his detailed and profound unfolding of New Testament theology."
- Thomas R. Schreiner, The Southern Baptist Theological Seminary

In this comprehensive exposition, a leading New Testament scholar explores the unfolding theological unity of the entire Bible from the vantage point of the New Testament. G. K. Beale, coeditor of the award-winning Commentary on the New Testament Use of the Old Testament, examines how the New Testament storyline relates to and develops the Old Testament storyline. Beale argues that every major concept of the New Testament is a development of a concept from the Old and is to be understood as a facet of the inauguration of the latter-day new creation and kingdom. Offering extensive interaction between the two testaments, this volume helps readers see the unifying conceptual threads of the Old Testament and how those threads are woven together in Christ. This major work will be valued by students of the New Testament and pastors alike.

"It is tempting to confess that dogmaticians merely rummage around in the mines of biblical theologians. With this volume, the quarry has been enlarged and deepened, exposing the richest veins. I found it to be not exactly a page-turner, but rather on almost every page I discovered another spot at which to linger before moving on. Drawing on decades of exegetical research and teaching, A New Testament Biblical Theology exists at the intersection of biblical studies and theology. Carrying on the tradition of Geerhardus Vos, Professor Beale has raised the bar for biblical theology in our day. We will be digesting this volume for many years to come."
- Michael Horton, J. Gresham Machen Professor of Systematic Theology and Apologetics, Westminster Seminary California

"This New Testament biblical theology makes the Old Testament storyline the point of departure for exploring the New Testament message. Beale's volume is far reaching, written at a high scholarly level, and conversant with a wide range of scholarship. Even where one may disagree, Beale's treatment is always informative and at times even provocative. A very important contribution to biblical theology that deserves to be widely read."
- Andreas J. Kostenberger, senior professor of New Testament and biblical theology, Southeastern Baptist Theological Seminary

"A magnificent achievement! Rarely does a volume in biblical studies come along with such breadth, depth, insight, and specificity. It is a brilliant reconstruction of themes that are central to Christian faith. This is a landmark accomplishment."
- David F. Wells, distinguished research professor, Gordon-Conwell Theological Seminary

"The canonical scope and focus on the biblical storyline give Beale's New Testament Biblical Theology a unique place among the many New Testament theologies now available. The book is vintage Beale, creatively making connections between Old Testament and New Testament and pursuing a definite vision of how the Bible hangs together."
- Douglas J. Moo, Kenneth T. Wessner Professor of New Testament, Wheaton College

"Some New Testament theologies emphasize the distinctiveness of each author or book; others seek a center or unifying theme. Beale's work is decidedly in the second category as he demonstrates new creation as an umbrella category covering all of the other major motifs not only in the New Testament but also in the relevant Old Testament and Second Temple Jewish background material. Along the way, readers are treated to outstanding up-to-date discussions of most of the main topics they have come to expect and some new ones, especially in light of intracanonical connections. Throughout, Beale is thoroughly evangelical and thoroughly scholarly. This work is a true tour de force."
- Craig L. Blomberg, distinguished professor of New Testament, Denver Seminary


- Publisher


Meet the Author
G K Beale
G. K. Beale (Ph.D., University of Cambridge) is Visiting Professor of New Testament at Westminster Theological Seminary, PA- while holding the position of Kenneth T. Wessner Professor of New Testament at Wheaton College Graduate School in Wheaton, Illinois. His books include The Book of Revelation (New International Greek Testament Commentary), 1-2 Thessalonians (The IVP New Testament Commentary Series), The Right Doctrine from the Wrong Texts? Essays on the Use of the Old Testament in the New, John's Use of the Old Testament in Revelation and The Temple and the Church's Mission: A Biblical Theology of the Dwelling Place of God. He is also a contributor to the New Dictionary of Biblical Theology and his most recent works are We Become What We Worship: A Biblical Theology of Idolatry, Colossians, Philemon (Baker Exegetical Commentary of the New Testament) and The Pastorals (Zondervan Exegetical Commentary).
-Editorial Review.
Table Of Contents
1. Introduction
2. The Redemptive-historical Storyline Of The Old Testament
3. The Eschatological Storyline Of The Old Testament In Relation To Judaism And The New Testament: The Old Testament Focus On The Latter Days (part 1)
4. The Eschatological Storyline Of The Old Testament In Relation To Judaism And The New Testament: The Jewish Focus On The Latter Days (part 2)
5. The Eschatological Storyline Of The Old Testament In Relation To Judaism And The New Testament: The New Testament Focus On The Latter Days (part 3)
6. Conclusion To The Relation Of The Eschatological Storyline Of The Old Testament In Relation To Judaism And The New Testament (part 4)
7. The Story Of The "already And Not Yet" End-time Great Tribulation
8. The Story Of The "already And Not Yet" Latter-day Resurrection And New Creational Kingdom As A Framework For New Testament Theology (part 1: The Gospels And Acts)
9. The Story Of The "already And Not Yet" Latter-day Resurrection And New Creational Kingdom As A Framework For New Testament Theology (part 2: Pauline Theology)
10. The Story Of The "already And Not Yet" Resurrection And New Creational Kingdom As A Framework For Pauline Testament Theology (part 3: More Explicit Pauline Expressions Of Resurrection As New Creation)
11. The Story Of The "already And Not Yet" Resurrection And New Creational Kingdom As A Framework For New Testament Theology: The General Epistles And Revelation (part 4)
12. The Story Of Sin As Idolatry: Resembling The Image That Is Revered Either For Ruin Or For Restoration.
13. The Story Of The Restoration Of God's Image In Humanity (part 1: The Old Testament And Synoptic Gospels)
14. The Story Of The Restoration Of God's Image In Humanity (part 2: Paul, Hebrews, And Revelation)
15. The Story Of Salvation As New Creation (part 1): Already And Not Yet Latter-day Justification
16. The Story Of Salvation As New Creation (part 2): Already And Not-yet Reconciliation As New Creation And Restoration From Exile
17. The Story Of The Spirit: The Transforming Agent Of The Eschatological New Creation
18. The Story Of The Commencement Of The Spirit's Building Of Believers Into The Transformed Temple Of The End-time New Creation
19. The Story Of The Eden Sanctuary, Israel's Temple, And Christ And The Church As The Ongoing Transformed Eschatological Temple Of God In The New Creational Kingdom
20. The Story Of The Church As The Transformed Restored Eschatological Israel In The New Creation (part 1)
21. The Story Of The Church As The Transformed And Restored Eschatological Israel In The New Creation (part 2)
22. The Story Of The Relationship Of Israel's Land Promises To The Fulfillment Of Israel's Restoration And New Creation Prophecies In Christ And The Church
23. The Distinguishing Marks Of The Church As Storyline Facets Of The Eschatological New Creation And Transformations Of Israel's Distinguishing Marks (part 1): The Sunday Sabbath Observance Of The Church As A New Creational, End-time Reality
24. The Distinguishing Marks Of The Church As Storyline Facets Of The Eschtological New Creation And Transformations Of Israel's Distinguishing Marks (part 2)
25. The Story Of Christian Living As Transformed New Creational Life (part 1)
26. The Story Of Christian Living As Transformed New Creational Life (part 2)
27. Conclusion (part 1): The Relationship Of Inaugurated And Consummative Eschatological Realities To The Parallel Realities Experienced By Old Testament Saints
28. Conclusion (part 2): The Purpose Of The Redemptive-historical Story And Implications For Christian Living In The "already And Not Yet" Eschatological Age
indexes