A Note Yet Unsung (#03 in Belmont Mansion Series)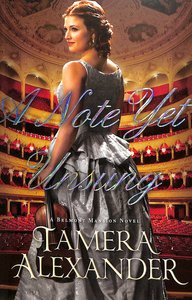 :From Bestselling Author Tamera Alexander Comes the Final Novel in the Sweeping Belmont Mansion Series

A master violinist trained in Vienna, Rebekah Carrington manages to wheedle her way into an audition with the new maestro at the Nashville Philharmonic. But women are "far too fragile and frail" for the rigors of an orchestra, and Rebekah's hopes are swiftly dashed when the conductor--determined to leave his mark on the world of classical music--bows to public opinion. To make matters worse, Adelicia Cheatham, mistress of Belmont Mansion and Rebekah's new employer, agrees with him.

Nationally acclaimed conductor Nathaniel Tate Whitcomb is Nashville's youngest orchestra leader. And despite a reluctant muse and a strange buzzing and recurring pain in his head, he must finish composing his symphony before the grand opening of the city's new symphony hall. Even more pressing, he must finish it for the one who first inspired his love of music--his dying father. As Tate's ailment worsens, he knows Rebekah can help him finish his symphony. But how can he win back her trust when he's robbed her of her dream?

As music moves us to tears yet makes our hearts soar, A Note Yet Unsung captures the splendor of classical music at a time when women's hard-won strides in cultural issues changed not only world history--but the hearts of men.

- Publisher
You May Also Be Interested In
About "A Note Yet Unsung (#03 in Belmont Mansion Series)"
:From Bestselling Author Tamera Alexander Comes the Final Novel in the Sweeping Belmont Mansion Series

A master violinist trained in Vienna, Rebekah Carrington manages to wheedle her way into an audition with the new maestro at the Nashville Philharmonic. But women are "far too fragile and frail" for the rigors of an orchestra, and Rebekah's hopes are swiftly dashed when the conductor--determined to leave his mark on the world of classical music--bows to public opinion. To make matters worse, Adelicia Cheatham, mistress of Belmont Mansion and Rebekah's new employer, agrees with him.

Nationally acclaimed conductor Nathaniel Tate Whitcomb is Nashville's youngest orchestra leader. And despite a reluctant muse and a strange buzzing and recurring pain in his head, he must finish composing his symphony before the grand opening of the city's new symphony hall. Even more pressing, he must finish it for the one who first inspired his love of music--his dying father. As Tate's ailment worsens, he knows Rebekah can help him finish his symphony. But how can he win back her trust when he's robbed her of her dream?

As music moves us to tears yet makes our hearts soar, A Note Yet Unsung captures the splendor of classical music at a time when women's hard-won strides in cultural issues changed not only world history--but the hearts of men.
- Publisher


Meet the Author
Tamera Alexander
Tamera Alexander is the critically acclaimed author of Rekindled, her first novel. Before turning to writing full-time, Tamera Alexander's professional background was in business management and corporate conference coordination. A business graduate of Harding University, Tamera lives with her husband and their two teenagers in Greeley, Colorado.
Customer Reviews For "A Note Yet Unsung (#03 in Belmont Mansion Series)"
Write Your Own Review
Inspiring and riveting tale by bestselling author!
By Mezza,

Feb 03 2018
Loved this enthralling tale by Tamera Alexander! This was my first time reading a book by this author, and I was completely swept away by this sweet story. 

A young, famous composer fighting for a place in the world of classical music. A beautiful, talented violinist, rejected time and time again. What will happen when these two determined people clash? Will they become ardent adversaries, or will they blend together and beautifully compliment each other? 

The story was superb, but I loved the history behind this novel, especially Adelicia Acklen Cheatham. I could tell lots of research and effort had been put in. Loved the musical setting and story-line, since I play both the violin and piano. This book really inspired me to keep running towards my goals. Even when it seems that it is hopeless, God will open doors for you, and when He opens doors, no-one can close them. 

---
Masterful
By Johanna,

Nov 23 2017
Within the first chapter it was clear that there is more beneath the surface. The blurb explains enough to lure you in, to make you excited about the story. But, just like Tamera Alexander style, the story is just rich in history, romance, and personality. There is such depth I didn't want to put the book down. 

Rebekah is a sassy character! One that matches Tate so well! I love how Tamera Alexander wrote it and translated it onto the page. They just came to life - it was like watching a movie! Rebekah knows what she wants, and loves music so wholeheartedly. Yet, she has a fragile and troubled past. The same can be said about Tate. He is a masterful orchestra leader! But the more you read, the more you discover about him which is rather humbling. Tough on the outside, but soft on the inside!

And the music. That's what drew my attention. The love for the instruments was inspiring. It's more than reading the music - it's felt inside and translates with a connection to the notes and melody itself. Inspiring!

You will not be disappointed with this story. It's the way Tamera writes that draws you in for a unique experience. Those familiar with her work know what I mean. Don't miss out!
{{review.title}}
By {{review.author.name}},

{{review.reviewCreatedDate | date:'MMM dd yyyy'}}

{{reviewdescription}}
{{review.text}}
---
Other Titles In The "Belmont Mansion Series" Series View All