A Passion For Souls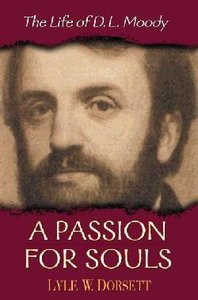 Moody was a model of biblical passion, vision, and commitment. Examine the life of this great evangelist, probing his strengths and weaknesses, virtues and faults, triumphs and struggles to find a man after God's own heart.

- Publisher
You May Also Be Interested In
About "A Passion For Souls"
Moody was a model of biblical passion, vision, and commitment. Examine the life of this great evangelist, probing his strengths and weaknesses, virtues and faults, triumphs and struggles to find a man after God's own heart.
- Publisher


Meet the Author
Lyle Dorsett
Lyle W. Dorsett (Ph.D., University of Missouri-Columbia) is Professor of Christian Formation and Ministry at Wheaton College and is also Billy Graham Professor of Evangelism at Beeson Divinity School. He is the founding pastor of Church of the Great Shepherd in Wheaton, Illinois, where Lyle now volunteers as part of the ministry team. Lyle Dorsett has a keen interest in History,especially in the history of the care of souls, evangelism and revival. He is the author of eighteen books, among them several Christian biographies and three works on C. S. Lewis. His most recent book is A Love Observed: Joy Davidman's Life and Marriage to C.S. Lewis, Seeking the Secret Place: The Spiritual Formation of C. S. Lewis and A Passion for Souls: The Life of D.L. Moody.
Table Of Contents
1. D. L. Moody's Family Tree

2. Northfield, Massachusetts, 1837 - 1854.

3. Boston, 1854 - 1856.

4. Chicago, 1856 - 1860.

5. A School Of Practical Theology - Chicago And The Civil War, 1861 - 1865.

6. A Wider Circle At Home And Abroad, 1865 - 1870.

7. Trial By Fire: A City And A Soul Aflame, 1868 - 1871.

8. A Call To The Unknown: England And Chicago, 1872 - 1873.

9. The Spreading Flame: Britain Ablaze, 1873 - 1875.

10. A Great Harvest Abroad And At Home, 1875 - 1877.

11. Consolidating The Gains: D. L. Moody The Educator, 1878 - 1889.

12. Landmarks In Nonformal Christian Education: D. L. Moody's Contributions To Worker Training, Publishing, And The Conference Movement, 1889 - 1895.

13.finishing Well: D. L. Moody's Last Half-decade, 1895 - 1899.

14.in Retrospect: Some Keys To D. L. Moody's Effectiveness


appendix:

moody And The Historians Notes

a Note On Sources

index Of Persons

index Of Subjects

index Of Places