A Peculiar Prophet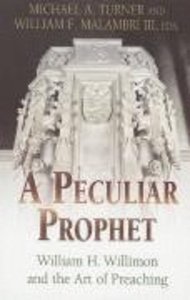 There is no more trusted mentor of preachers in North American Christianity today than William H. Willimon. The author of over sixty books, a frequent preacher and teacher in pastors' schools and events, Willimon has earned a following as one of the people to whom preachers turn more often than any other. Turner and Malambri make Willimon's role as a mentor to preachers more available than ever. Both former students of Willimon's, they provide detailed and practical tools for learning from this "peculiar prophet." They offer samples of Willimon's sermons, and commentary on them by other leading preachers and homiliticians such as Tom Long and Peter Gomes. The point of this examination of Willimon's work is not simply to praise it, but to assess both its strengths and its weaknesses, and to help readers learn in the process how Willimon can be a model of what to do and, at times, what not to do in the pulpit. Written with the needs of practicing preachers in mind, this book will make a significantcontribution, not only to understanding a great preacher, but also preaching itself.

- Publisher
You May Also Be Interested In
About "A Peculiar Prophet"
There is no more trusted mentor of preachers in North American Christianity today than William H. Willimon. The author of over sixty books, a frequent preacher and teacher in pastors' schools and events, Willimon has earned a following as one of the people to whom preachers turn more often than any other. Turner and Malambri make Willimon's role as a mentor to preachers more available than ever. Both former students of Willimon's, they provide detailed and practical tools for learning from this "peculiar prophet." They offer samples of Willimon's sermons, and commentary on them by other leading preachers and homiliticians such as Tom Long and Peter Gomes. The point of this examination of Willimon's work is not simply to praise it, but to assess both its strengths and its weaknesses, and to help readers learn in the process how Willimon can be a model of what to do and, at times, what not to do in the pulpit. Written with the needs of practicing preachers in mind, this book will make a significantcontribution, not only to understanding a great preacher, but also preaching itself.
- Publisher


Meet the Authors
Michael A Turner (Ed)
Michael A. Turner is the Cannon Professor of International Affairs at Alliant International University. He is a fifteen-year veteran of the Central Intelligence Agency, where he worked in various analytical and staff positions. Dr. Turner also served on several rotational assignments on Capitol Hill and at the Department of State and Department of Defense. He has published widely and lectures on national security, intelligence issues, and Aegean and Middle Eastern politics. He lives in San Diego.
William F Malambri (Ed)
WILLIAM F. MALAMBRI III is Associate Pastor at Central United Methodist Church in Florence, South Carolina.