A Perfect Fit (An Eshort Prequel to Healer of Carthage) (The Carthage Chronicles Series)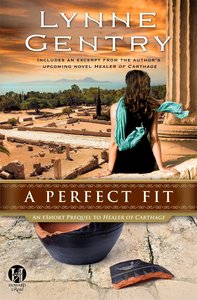 This e-short prequel to The Carthage Chronicles series offers an exclusive look at the romance of archaeologist Lawrence Hastings and Dr. Magdalena Kader­-parents of heroine Dr. Lisbeth Hastings from the upcoming novel Healer of Carthage-and how they stumbled upon a mystery thousands of years old and began the fateful journey to the Cave of the Swimmers.

Before Lawrence Hastings became obsessed with the Cave of the Swimmers and the mysterious disappearances surrounding it, he was just a young archaeologist excavating the Tophet of Roman Carthage. After an embarrassing on-the-job injury, Lawrence meets Magdalena Kader, a beautiful local doctor caught between her loyalty to her father and his traditions and what her heart truly desires.

Can they overcome their vastly different worlds to find something more?

- Publisher
You May Also Be Interested In
About "A Perfect Fit (An Eshort Prequel to Healer of Carthage) (The Carthage Chronicles Series)"
This e-short prequel to The Carthage Chronicles series offers an exclusive look at the romance of archaeologist Lawrence Hastings and Dr. Magdalena Kader­-parents of heroine Dr. Lisbeth Hastings from the upcoming novel Healer of Carthage-and how they stumbled upon a mystery thousands of years old and began the fateful journey to the Cave of the Swimmers.

Before Lawrence Hastings became obsessed with the Cave of the Swimmers and the mysterious disappearances surrounding it, he was just a young archaeologist excavating the Tophet of Roman Carthage. After an embarrassing on-the-job injury, Lawrence meets Magdalena Kader, a beautiful local doctor caught between her loyalty to her father and his traditions and what her heart truly desires.

Can they overcome their vastly different worlds to find something more?
- Publisher


Meet the Author
Lynne Gentry
Lynne Gentry" "was a finalist in Westbow's 2010 fiction contest. She is a member of the American Christian Fiction Writers (ACFW), and three of her novels have been selected as finalists for the ACFW Genesis contest. Lynne is a pastor's wife and the mother of two grown children.
Other Titles In The "The Carthage Chronicles" Series View All