A Perfect Word For Every Occasion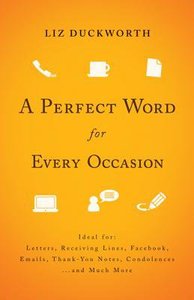 Timely Words for When They're Needed Most

The right words don't always come easily. For those who want to bless others with words that go beyond cliches, A Perfect Word for Every Occasion offers examples and guidelines for things to say, lines to write, and Scripture verses to share. Readers will find words to use anywhere: Facebook messages, emails, cards, receiving lines, birthdays, anniversaries, texting, graduations, emotional occasions, and more. They'll even discover what not to say.

Full of encouraging messages organized by category, A Perfect Word for Every Occasion will save readers time while strengthening their relationships.

- Publisher
You May Also Be Interested In
About "A Perfect Word For Every Occasion"
Timely Words for When They're Needed Most

The right words don't always come easily. For those who want to bless others with words that go beyond cliches, A Perfect Word for Every Occasion offers examples and guidelines for things to say, lines to write, and Scripture verses to share. Readers will find words to use anywhere: Facebook messages, emails, cards, receiving lines, birthdays, anniversaries, texting, graduations, emotional occasions, and more. They'll even discover what not to say.

Full of encouraging messages organized by category, A Perfect Word for Every Occasion will save readers time while strengthening their relationships.
- Publisher


Meet the Author
Liz Duckworth
Liz Duckworth is committed to helping others overcome their losses and learn to pursue their dreams again. In addition to numerous magazine articles, Liz has published two picture books, "God's Great Creation" and "Ragtail Remembers," the latter to help young children understand grief and the feelings that follow loss. With almost twenty years of experience in the Christian publishing field, Liz heads up Liz Duckworth Publishing Services.