A Physicist Examines Hope in the Resurrection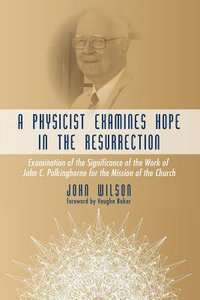 John Polkinghorne, ordained member of the Royal Society, past President of Queen's College Cambridge, Knight Commander of the Order of the British Empire, 2002 Templeton Prize winner, theoretical physicist, and theologian writes in breathless style to unfold core Christian doctrine in dialogue with science. His work deftly addresses how one would interpret and commend Christian faith in the contemporary world as he elucidates the key topics in the dialogue of religion with science. Polkinghorne's work addresses the hope Christians have--present and future--in the faithfulness of a loving God who stands alongside them today and for all eternity. Eschatological hope enables and empowers Christian life and emerges in God's resurrection of Jesus from the horrific crucifixion. Polkinghorne ably supports his thesis with a strong argument for the resurrection built on the kenotic acts of God. His thesis sees Christian eschatology as the advent of hope--the heart of faith. In Christian eschatology, as argued by Polkinhorne and supported in the work of Jurgen Moltmann and Nicholas T. Wright, Christ's presence is not some far off event, but present reality. ""Wilson has given us a remarkable window in the place of science, contemporary culture, and Christianity. With an evangelistic ear and eye, he has given the Church and the Academy a helpful resource in navigating the terrain that some have considered impassable."" --Michael J. Gehring, Senior Pastor, Broad Street United Methodist Church, Statesville, NC; Adjunct Professor of Pastoral Theology, Hood Theological Seminary ""Science and theology have too often been at odds in modernity. John Wilson seeks to correct that conflict, and in this helpful text, puts before us a compelling resource of how John Polkinghorne's work provides resources to understand the church's mission in light of physics and modern science... . To persons who want to go deeper into the nature of physics and the life of theology, Wilson's book will offer a good first step."" --Andrew Kinsey, Pastor, Grace United Methodist Church, Franklin, IN John Wilson joined the Sam Houston State University physics faculty in 2009. Wilson, a retired deacon in the Texas Annual Conference of the United Methodist Church, in addition to his work in physics, devotes considerable time to theology with particular interest in the dialogue of religion with science--supported with his having obtained a PhD in physics and a DTh in theology. In theology, he has extensively examined the work of John C. Polkinghorne.

- Publisher
You May Also Be Interested In
About "A Physicist Examines Hope in the Resurrection"
John Polkinghorne, ordained member of the Royal Society, past President of Queen's College Cambridge, Knight Commander of the Order of the British Empire, 2002 Templeton Prize winner, theoretical physicist, and theologian writes in breathless style to unfold core Christian doctrine in dialogue with science. His work deftly addresses how one would interpret and commend Christian faith in the contemporary world as he elucidates the key topics in the dialogue of religion with science. Polkinghorne's work addresses the hope Christians have--present and future--in the faithfulness of a loving God who stands alongside them today and for all eternity. Eschatological hope enables and empowers Christian life and emerges in God's resurrection of Jesus from the horrific crucifixion. Polkinghorne ably supports his thesis with a strong argument for the resurrection built on the kenotic acts of God. His thesis sees Christian eschatology as the advent of hope--the heart of faith. In Christian eschatology, as argued by Polkinhorne and supported in the work of Jurgen Moltmann and Nicholas T. Wright, Christ's presence is not some far off event, but present reality. ""Wilson has given us a remarkable window in the place of science, contemporary culture, and Christianity. With an evangelistic ear and eye, he has given the Church and the Academy a helpful resource in navigating the terrain that some have considered impassable."" --Michael J. Gehring, Senior Pastor, Broad Street United Methodist Church, Statesville, NC; Adjunct Professor of Pastoral Theology, Hood Theological Seminary ""Science and theology have too often been at odds in modernity. John Wilson seeks to correct that conflict, and in this helpful text, puts before us a compelling resource of how John Polkinghorne's work provides resources to understand the church's mission in light of physics and modern science... . To persons who want to go deeper into the nature of physics and the life of theology, Wilson's book will offer a good first step."" --Andrew Kinsey, Pastor, Grace United Methodist Church, Franklin, IN John Wilson joined the Sam Houston State University physics faculty in 2009. Wilson, a retired deacon in the Texas Annual Conference of the United Methodist Church, in addition to his work in physics, devotes considerable time to theology with particular interest in the dialogue of religion with science--supported with his having obtained a PhD in physics and a DTh in theology. In theology, he has extensively examined the work of John C. Polkinghorne.
- Publisher


Meet the Author
John Wilson
John Wilson is an editor at Christianity Today and editor-in-chief of its Christian review of literature, Books & Culture. ýMark Noll is McManis Professor of Christian Thought at Wheaton College.