A Powerful Secret (#02 in The Worthington Destiny Series)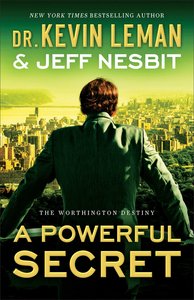 :Sean Worthington is shocked when he hears his older brother Will announce that he will not run for New York's Senate seat. In fact, he's angry. All of his efforts as Will's campaign manager are now for nothing--and Sean is left to handle questions from the press while Will walks away without a backward glance. Throughout his life, Sean has felt like an outsider in his own family. And not being told about his brother's plans is just one more piece of evidence that he's right.

Tired of being the odd one out, Sean is determined to forge his own path. Little does he know that it's not easy to escape your family--especially when a powerful secret from the past threatens to explode everything Sean ever believed.

Bestselling author, psychologist, and birth order expert Dr. Kevin Leman and novelist and journalist Jeff Nesbit are back with another intrigue-filled look inside the influential Worthington family.

- Publisher
You May Also Be Interested In
About "A Powerful Secret (#02 in The Worthington Destiny Series)"
:Sean Worthington is shocked when he hears his older brother Will announce that he will not run for New York's Senate seat. In fact, he's angry. All of his efforts as Will's campaign manager are now for nothing--and Sean is left to handle questions from the press while Will walks away without a backward glance. Throughout his life, Sean has felt like an outsider in his own family. And not being told about his brother's plans is just one more piece of evidence that he's right.

Tired of being the odd one out, Sean is determined to forge his own path. Little does he know that it's not easy to escape your family--especially when a powerful secret from the past threatens to explode everything Sean ever believed.

Bestselling author, psychologist, and birth order expert Dr. Kevin Leman and novelist and journalist Jeff Nesbit are back with another intrigue-filled look inside the influential Worthington family.
- Publisher


Meet the Authors
Kevin Leman
Dr. Kevin Leman, an internationally known psychologist, radio and television personality, and speaker, has taught and entertained audiences worldwide with his wit and commonsense psychology.

The best-selling and award-winning author has made house calls for hundreds of radio and television programs, including The View with Barbara Walters, The Today Show, Oprah, CBS's The Early Show, Live with Regis Philbin, CNN's American Morning, and LIFE Today with James Robison, and he has served as a contributing family psychologist to Good Morning America.

He is the founder and president of Couples of Promise, an organization designed and committed to helping couples remain happily married. Dr. Leman is also a charter faculty member of iQuestions.com.

He has written over 50 best-selling books about marriage and family issues, including The Birth Order Book and Sheet Music: Uncovering the Secrets of Sexual Intimacy in Marriage.

Dr. Leman was born in 1943 in Tucson, Arizona, and earned his degree in psychology from the University of Arizona. He and his wife, Sande, make their home in Tucson. They have been married since 1967, and have five adult children.
Jeff Nesbit
Jeff Nesbit has been a national journalist, the director of public affairs at several major federal agencies in Washington, DC, and the communications director to the vice president at the White House. Hes written seventeen successful thrillers and young adult novels for Tyndale, Zondervan, Thomas Nelson, Hodder & Stoughton, and others.
Other Titles In The "The Worthington Destiny Series" Series