A Practical View of Christianity (Hendrickson Christian Classics Series)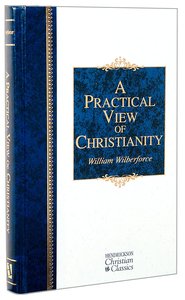 Wilberforce's classic work, A Practical View of Christianity, is concerned with convincing those who call themselves Christians to pursue "the real nature and principles of the religion which they profess." Christianity is not a mere morality, to be held in private. Christianity is revelation from God, bringing new rights and correspondent duties. It is an entire way of life that requires diligence and study and that should affect every aspect of the Christian's public and private life.


- Publisher The current fascination with "virtue" is attested by the public's consumption of books such as William Bennett's Book of Virtues and Gertrude Himmelfarb's The Demoralization of Society. But the issue of virtues and public life has been around much longer. In fact, in the late 1700s William Wilberforce, a renowned British statesman and counsel to Prime Minister William Pitt, penned what would become one of the most eloquent statements concerning Christian civil responsibility ever written. Its influence extended across the Atlantic and into the following centuries. Among his many contributions to society, Wilberforce is best known for his efforts on behalf of slaves throughout the world, and in a very real sense he laid the ground work for the abolition of slavery in the United States. This annotated critical reissue of the first edition of Wilberforce's most influential work pays tribute to his legacy and seeks to restore Wilberforce to his rightful place in the cultural memory of the community worldwide. Kevin Belmonte not only preserves for us the text of this literary and cultural gem but he also provides the sources behind Wilberforce's numerous quotations from Latin, literature, and Scripture. An introduction by Charles Colson mirrors the ongoing relevance of Wilberforce's notion of Christian social responsibility.

- Publisher
You May Also Be Interested In
About "A Practical View of Christianity (Hendrickson Christian Classics Series)"
Wilberforce's classic work, A Practical View of Christianity, is concerned with convincing those who call themselves Christians to pursue "the real nature and principles of the religion which they profess." Christianity is not a mere morality, to be held in private. Christianity is revelation from God, bringing new rights and correspondent duties. It is an entire way of life that requires diligence and study and that should affect every aspect of the Christian's public and private life.

- Publisher

The current fascination with "virtue" is attested by the public's consumption of books such as William Bennett's Book of Virtues and Gertrude Himmelfarb's The Demoralization of Society. But the issue of virtues and public life has been around much longer. In fact, in the late 1700s William Wilberforce, a renowned British statesman and counsel to Prime Minister William Pitt, penned what would become one of the most eloquent statements concerning Christian civil responsibility ever written. Its influence extended across the Atlantic and into the following centuries. Among his many contributions to society, Wilberforce is best known for his efforts on behalf of slaves throughout the world, and in a very real sense he laid the ground work for the abolition of slavery in the United States. This annotated critical reissue of the first edition of Wilberforce's most influential work pays tribute to his legacy and seeks to restore Wilberforce to his rightful place in the cultural memory of the community worldwide. Kevin Belmonte not only preserves for us the text of this literary and cultural gem but he also provides the sources behind Wilberforce's numerous quotations from Latin, literature, and Scripture. An introduction by Charles Colson mirrors the ongoing relevance of Wilberforce's notion of Christian social responsibility.
- Publisher


Meet the Authors
William Wilberforce
William Wilberforce was used mightily in social reform and spoke out against the slave trade.
Charles Colson (Fwd)
The well-known story of Charles Colson's transformation from President Richard Nixon's "hatchet man" who was "incapable of humanitarian thoughts" to founder of the Prison Fellowship Ministries and internationally recognized Christian author and speaker is a triumph of God finding a man and a man finding God. His 1973 conversion to Christianity was followed by a guilty plea to obstruction of justice and a seven-month prison sentence in 1974. He founded Prison Fellowship Ministries in 1976, fulfilling a promise made to fellow inmates that he would "never forget those behind bars."
Charles Colson's first book, Born Again, was released in 1976 and instantly became an international bestseller. He has authored many books that have collectively sold more than five million copies worldwide, including Justice That Restores; How Now Shall We Live?; Burden of Truth, Answers to Your Kids; Gideon's Torch; Why America Doesn't Work; Kingdoms in Conflict; and Loving God.
He is also a columnist, international speaker, and commentator on a national radio broadcast. He received the prestigious Templeton Prize for Progress in Religion in 1993 and donated the $1 million prize to the Prison Fellowship's Endowment Fund.
Other Titles In The "Hendrickson Christian Classics" Series View All