A Promise of Hope (#02 in Kauffman Amish Bakery Series)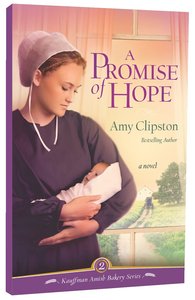 Sarah Troyer faces an uncertain future as a pregnant Amish widow after losing her husband in a tragic fire three months earlier. When she discovers during a routine obstetrics visit that she's carrying twins, she's overwhelmed with joy and worry. She's even more stunned when her late husband's brother, Jesse, whom she never knew existed, visits Bird-in-Hand to find out about his brother's past. Her life takes a more emotional twist when Jesse shares more shocking secrets of her husband's younger days in Ohio. Sarah's family pressures her to marry widower Norman Zook to gain stability for her babies, and she finds herself caught between her husband's past and a possible future with Jesse. When Jesse leaves and Sarah reluctantly accepts Norman's proposal, her world begins to fall apart, leaving her to question her place in the Amish community, her late husband's love for her, her children's future, and her faith in God.



- Publisher Take a trip to Bird-in-Hand, Pennsylvania, where you'll meet the women of the Kauffman Amish Bakery in Lancaster County. As each woman's story unfolds, you will share in her heartaches, trials, joys, dreams ... and secrets. You'll discover how the simplicity of the Amish lifestyle can clash with the 'English' way of life---and the decisions and consequences that follow. Most importantly, you will be encouraged by the hope and faith of these women, and the importance they place on their families. In A Promise of Hope, the second installment in the Kauffman Amish Bakery series, bestselling author Amy Clipston continues to unfold the tensions, loves, and faith of the inhabitants of Bird-in-Hand, Pennsylvania, and the family bakery that serves as an anchor point for the series. When Sarah Troyer tragically loses her husband Peter, she is left to raise infant twins alone. Overwhelmed and grieving, she lives with her parents in the Amish community of Bird-in-Hand, Pennsylvania. Sarah is taken completely by surprise when a stranger arrives claiming connections to Peter's past---Peter had told her he was an orphan with no family. From Luke, she learns her husband hid a secret life, one with ramifications that will change her own. Sarah's family, concerned for her and the future of her twins, encourages her to marry again. It should make sense ... but Sarah's heart says no. She feels trapped. Should she marry a man she doesn't love? Or discover if her growing interest in Luke can be trusted? A Promise of Hope is filled with surprising twists that will grip you to the very last words.

- Publisher
Also Available In
You May Also Be Interested In
About "A Promise of Hope (#02 in Kauffman Amish Bakery Series)"
Sarah Troyer faces an uncertain future as a pregnant Amish widow after losing her husband in a tragic fire three months earlier. When she discovers during a routine obstetrics visit that she's carrying twins, she's overwhelmed with joy and worry. She's even more stunned when her late husband's brother, Jesse, whom she never knew existed, visits Bird-in-Hand to find out about his brother's past. Her life takes a more emotional twist when Jesse shares more shocking secrets of her husband's younger days in Ohio. Sarah's family pressures her to marry widower Norman Zook to gain stability for her babies, and she finds herself caught between her husband's past and a possible future with Jesse. When Jesse leaves and Sarah reluctantly accepts Norman's proposal, her world begins to fall apart, leaving her to question her place in the Amish community, her late husband's love for her, her children's future, and her faith in God.


- Publisher

Take a trip to Bird-in-Hand, Pennsylvania, where you'll meet the women of the Kauffman Amish Bakery in Lancaster County. As each woman's story unfolds, you will share in her heartaches, trials, joys, dreams ... and secrets. You'll discover how the simplicity of the Amish lifestyle can clash with the 'English' way of life---and the decisions and consequences that follow. Most importantly, you will be encouraged by the hope and faith of these women, and the importance they place on their families. In A Promise of Hope, the second installment in the Kauffman Amish Bakery series, bestselling author Amy Clipston continues to unfold the tensions, loves, and faith of the inhabitants of Bird-in-Hand, Pennsylvania, and the family bakery that serves as an anchor point for the series. When Sarah Troyer tragically loses her husband Peter, she is left to raise infant twins alone. Overwhelmed and grieving, she lives with her parents in the Amish community of Bird-in-Hand, Pennsylvania. Sarah is taken completely by surprise when a stranger arrives claiming connections to Peter's past---Peter had told her he was an orphan with no family. From Luke, she learns her husband hid a secret life, one with ramifications that will change her own. Sarah's family, concerned for her and the future of her twins, encourages her to marry again. It should make sense ... but Sarah's heart says no. She feels trapped. Should she marry a man she doesn't love? Or discover if her growing interest in Luke can be trusted? A Promise of Hope is filled with surprising twists that will grip you to the very last words.
- Publisher


Meet the Author
Amy Clipston
Amy Clipston is a first-time author and member of American Christian Fiction Writers (ACFW). She holds a degree in communications from Virginia Wesleyan College and works full-time as a public information specialist for the City of Charlotte, NC. Amy lives in North Carolina with her husband and two sons.
Other Titles In The "Kauffman Amish Bakery" Series View All
$11.99

$9.59




Available Now. 2 Available

Formats

$19.99




Order now to secure your copy when our stock arrives. Other edition is available. 9780310343998 0 Available. Expected to ship in 6 to 7 weeks from Australia.

Formats

$21.99

Nett


Available for immediate download.

Formats

$6.99

Nett


Available for immediate download.

Formats