A Promise to Protect (#02 in Logan Point Series)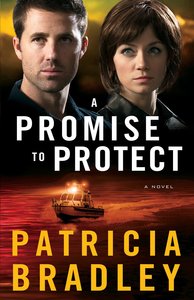 Acting Sheriff Ben Logan hasn't heard from Leigh Somerall in a very long time, but it doesn't mean he can get her--or their whirlwind romance of ten years ago--out of his head. When she calls out of the blue, it is with a strange request to protect her brother, Tony. When Tony dies just days later, Ben is charged with a different task--protecting Leigh and her nine-year-old son, TJ, from the killers. But how can Ben keep an eye on Leigh if she's doing everything in her power to avoid him? And could the secret that Leigh is keeping change Ben's life forever?
Suspense, intrigue, and a touch of romance make A Promise to Protect perfect for readers who like their stories with a hearty dose of mystery.

- Publisher
You May Also Be Interested In
About "A Promise to Protect (#02 in Logan Point Series)"
Acting Sheriff Ben Logan hasn't heard from Leigh Somerall in a very long time, but it doesn't mean he can get her--or their whirlwind romance of ten years ago--out of his head. When she calls out of the blue, it is with a strange request to protect her brother, Tony. When Tony dies just days later, Ben is charged with a different task--protecting Leigh and her nine-year-old son, TJ, from the killers. But how can Ben keep an eye on Leigh if she's doing everything in her power to avoid him? And could the secret that Leigh is keeping change Ben's life forever?
Suspense, intrigue, and a touch of romance make A Promise to Protect perfect for readers who like their stories with a hearty dose of mystery.
- Publisher


Meet the Author
Patricia Bradley
Patricia Bradley's manuscript for "Shadows of the Past" was a finalist for the 2012 Genesis Award, winner of a 2012 Daphne du Maurier award (1st place, Inspirational), and winner of a 2012 Touched by Love award (1st place, Contemporary). She is a published short story writer and is cofounder of Aiming for Healthy Families, Inc. When she's not writing or speaking, she can be found making beautiful clay pots and jewelry. She is a member of American Christian Fiction Writers and Romance Writers of America and makes her home in Mississippi. Learn more at www.ptbradley.com.
Media
Other Titles In The "Logan Point Series" Series View All