A Quiet Strength (#03 in Prairie Legacy Series)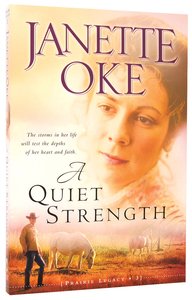 Virginia Simpson has learned that grandma Marty was right to insist that when God allows something to be taken from you, he replaces it with something better. The return of Jonathan, their renewed courtship, and the upcoming wedding are all shining examples of that. Still though, the trials and disappointments of Virginia's life weigh heavily on her and the inner strength that has continued to build in her is far from completion.

The first test of her new resolve comes soon after her marriage. Waiting for their house to be completed, the couple has no choice but to live with Jonathan's grandmother. Although Virginia loves the woman, she struggles with having to share her new husband's time. When the house is completed, even greater obstacles arise, challenging both the couple's fledgling love as well as Virginia's inner peace. But like gold refined, Virginia will emerge as a woman of character and godliness.

Returning to the legacy of Marty and Clark Davis from the Love Comes Softly series, Janette Oke has again fashioned a touching frontier series for fans of all ages. Picking up twenty years after Belinda's story from Love Finds a Home, A Prairie Legacy series follows Marty and Clark's grandchildren as they grow in faith and maturity. Heartwarming, and as familiar as a smiling face, Janette Oke's writing introduces a whole new generation of characters for both a new generation of readers and dedicated fans alike

- Publisher
You May Also Be Interested In
About "A Quiet Strength (#03 in Prairie Legacy Series)"
Virginia Simpson has learned that grandma Marty was right to insist that when God allows something to be taken from you, he replaces it with something better. The return of Jonathan, their renewed courtship, and the upcoming wedding are all shining examples of that. Still though, the trials and disappointments of Virginia's life weigh heavily on her and the inner strength that has continued to build in her is far from completion.

The first test of her new resolve comes soon after her marriage. Waiting for their house to be completed, the couple has no choice but to live with Jonathan's grandmother. Although Virginia loves the woman, she struggles with having to share her new husband's time. When the house is completed, even greater obstacles arise, challenging both the couple's fledgling love as well as Virginia's inner peace. But like gold refined, Virginia will emerge as a woman of character and godliness.

Returning to the legacy of Marty and Clark Davis from the Love Comes Softly series, Janette Oke has again fashioned a touching frontier series for fans of all ages. Picking up twenty years after Belinda's story from Love Finds a Home, A Prairie Legacy series follows Marty and Clark's grandchildren as they grow in faith and maturity. Heartwarming, and as familiar as a smiling face, Janette Oke's writing introduces a whole new generation of characters for both a new generation of readers and dedicated fans alike

- Publisher
- Koorong

Virginia Simpson's courtship with an old beau is rekindled and the couple marries. The early days of marriage prove difficult as Jonathan builds their home and starts his business. Things are further complicated when the couple takes in the child of an old friend who is an alcoholic.
- Publisher


Meet the Author
Janette Oke
Janette Oke was born in Champion, Alberta, Canada, during the depression years. She graduated from Mountain View Bible College in Alberta where she met her husband, Edward. They married in 1957 and served in churches in Calgary and Edmonton, Canada, and Indiana. Oke writes historical novels which portray the lives of early North American settlers from many walks of life and geographical settings. She also writes engaging children's stories and inspiring gift books that warm the heart. Oke published her first book, Love Comes Softly, in 1979. This book experienced immediate success and became a series. She has won a number of awards including the Gold Medallion Award, The Christy Award of Excellence, the 1992 Presidents Award for her significant contribution to the category of Christian fiction from the Evangelical Christian Publishers Association, and in 1999, the Life Impact Award from the Christian Booksellers Association International. Her books have been translated into fourteen languages. Oke has published some 75 books including, The Canadian West, Seasons of the Heart and Women of the West. Her most recent releases include a beautiful childrens picture book, I Wonder...Did Jesus Have a Pet Lamb and The Songs of Acadia series, co-written with T. Davis Bunn. - Publisher.
Other Titles In The "Prairie Legacy" Series View All