A Radical Faith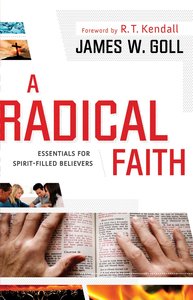 Bestselling Author's Essential Faith Handbook for Every Spirit-Filled Christian

The writer to the Hebrews itemizes the elements of a firm spiritual foundation. These fundamentals must be built into the foundation of every Christian so he or she will not collapse in the face of life's storms. When Christians are shaky in their beliefs, they become vulnerable in the fight against hell. Yet the enemy, as the psalmist pointed out, is constantly shooting at their foundations. What can they do?

They can fortify their foundations, says James W. Goll, one of the most respected leaders in the renewal movement. In the only book/study guide combination on the topic, he lays out the biblical elements of a firm foundation from Hebrews 6, including faith in God, the baptism with the Holy Spirit, resurrection from the dead, and more. His clear, conversational approach equips both new and veteran Christians with the tools they need to establish an unshakable foundation.

- Publisher
You May Also Be Interested In
About "A Radical Faith"
Bestselling Author's Essential Faith Handbook for Every Spirit-Filled Christian

The writer to the Hebrews itemizes the elements of a firm spiritual foundation. These fundamentals must be built into the foundation of every Christian so he or she will not collapse in the face of life's storms. When Christians are shaky in their beliefs, they become vulnerable in the fight against hell. Yet the enemy, as the psalmist pointed out, is constantly shooting at their foundations. What can they do?

They can fortify their foundations, says James W. Goll, one of the most respected leaders in the renewal movement. In the only book/study guide combination on the topic, he lays out the biblical elements of a firm foundation from Hebrews 6, including faith in God, the baptism with the Holy Spirit, resurrection from the dead, and more. His clear, conversational approach equips both new and veteran Christians with the tools they need to establish an unshakable foundation.
- Publisher


Meet the Author
James W Goll
James W. Goll is the cofounder of Encounter Network, a ministry to the nations. He has written fifteen extensive Bible study guides and is the author or co-author of nearly a dozen books, including Kneeling on the Promises,The Coming Prophetic Revolution and Praying for Israel's Destiny. Goll is a contributing editor to Kairos magazine and speaks and ministers around the world. He and his wife, Michal Ann, live in Franklin, Tennessee.