A Reference Companion (The Story Series)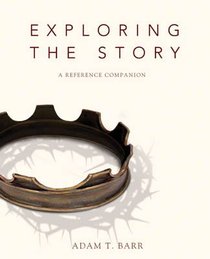 $

25.99

$

20.79
You Save: $5.20 (20%)
Paperback
Exploring the Story helps you understand and grasp the significance of each chapter in the The Story, an innovative Bible that presents Scripture as a continuous narrative in chronological order. The big picture of God's redemptive plan comes into focus as you learn about the following elements: Timeline---shows how the events of The Story relate to the rest of history Plot Points---briefly describes the key narrative themes of a passage Cast of Characters---introduces the people featured in the text Chapter Overview---summarizes the corresponding chapter in The Story Discussion Questions---gives ideas for individual or group reflection Section Commentary---presents theological issues, important archaeological discoveries, or launch points for further discussion Small group leaders, pastors, and lay students of the Bible will gain a deeper understanding of God's life-changing redemptive plan by reading this book alongside The Story.

- Publisher
You May Also Be Interested In
This item is in the following kit
About "A Reference Companion (The Story Series)"
Exploring the Story helps you understand and grasp the significance of each chapter in the The Story, an innovative Bible that presents Scripture as a continuous narrative in chronological order. The big picture of God's redemptive plan comes into focus as you learn about the following elements: Timeline---shows how the events of The Story relate to the rest of history Plot Points---briefly describes the key narrative themes of a passage Cast of Characters---introduces the people featured in the text Chapter Overview---summarizes the corresponding chapter in The Story Discussion Questions---gives ideas for individual or group reflection Section Commentary---presents theological issues, important archaeological discoveries, or launch points for further discussion Small group leaders, pastors, and lay students of the Bible will gain a deeper understanding of God's life-changing redemptive plan by reading this book alongside The Story.
- Publisher


Meet the Author
Adam Barr
Adam T. Barr is the Pastor of Teaching Ministries at Corinth Reformed Church and President of Borderlands, a ministry that equips church and campus ministries to disciple Next Generation leaders. He has earned degrees from Hope College, Western Theological Seminary, and Trinity Evangelical Divinity School and studied at Westminster Theological Seminary. He updated, edited and contributed to the Zondervan Illustrated Commentary: One-Volume Illustrated Edition ed. F. F. Bruce.
Other Titles In The "The Story Series" Series View All
$38.99




Order now to secure your copy when our stock arrives. eBook is Available. 0 Available. Expected to ship in 6 to 7 weeks from Australia.

Formats

$41.99




Order now to secure your copy when our stock arrives. eBook is Available. 0 Available. Expected to ship in 7 to 8 weeks from Australia.

Formats