A Season of Dreams (#04 in American Century Series)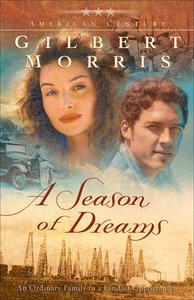 After the tumultuous 1920s, the Stuart family and the rest of America must grapple with a terrible turn of events: the Great Depression. While grateful for what they have, the Stuarts have to watch carefully lest times get even harder. When Jerry Stuart goes to Hollywood to join Aunt Lylah, he becomes a stunt pilot. He is not prepared for the turn his life will take. And half a continent away, Uncle Pete is fighting to keep his struggling oil rig out of the hands of the mighty Kingman Oil Company.
From the destitution of the Oklahoma oil fields to the glitter of Hollywood's Golden Age, this beautiful story of a family uniting to save a dream will captivate readers. And the realism borne out of Gilbert Morris's own experiences growing up during the Depression will make the settings and characters come alive.

- Publisher
You May Also Be Interested In
About "A Season of Dreams (#04 in American Century Series)"
After the tumultuous 1920s, the Stuart family and the rest of America must grapple with a terrible turn of events: the Great Depression. While grateful for what they have, the Stuarts have to watch carefully lest times get even harder. When Jerry Stuart goes to Hollywood to join Aunt Lylah, he becomes a stunt pilot. He is not prepared for the turn his life will take. And half a continent away, Uncle Pete is fighting to keep his struggling oil rig out of the hands of the mighty Kingman Oil Company.
From the destitution of the Oklahoma oil fields to the glitter of Hollywood's Golden Age, this beautiful story of a family uniting to save a dream will captivate readers. And the realism borne out of Gilbert Morris's own experiences growing up during the Depression will make the settings and characters come alive.
- Publisher


Meet the Author
Gilbert Morris
Gilbert Morris is one of todays best-known Christian novelists, specialising in historical fiction. His best-selling works include Edge of Honor (winner of a Christy Award in 2001), Jacobs Way, the House of Winslow series, the Appomattox series, and The Wakefield Saga. He lives in Gulf Shores, Alabama, with his wife, Johnnie. - Publisher.
Other Titles In The "American Century Series" Series View All