A Sensible Arrangement (#01 in Lone Star Brides Series)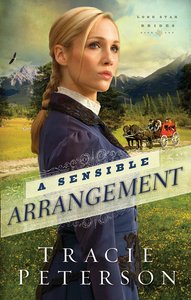 Marty Dandridge Olson is ready to leave behind the pain of the past.
Answering an advertisement for a "Lone Star bride," she leaves her Texas ranch and heads to Denver to marry a man she doesn't know.

Jake Wythe is the man waiting for her.
Burned by love, he marries now simply to satisfy the board of Morgan Bank, which believes a man of his standing in society should be wed. Together Jake and Marty agree they are done with romance and love and will make this nothing more than a marriage of convenience.

When missing money and a collapsing economy threaten his job, Jake's yearning to return to ranching grows ever stronger, much to Marty's dismay. But a fondness has grown between them, as well, further complicating matters.

What will happen when their relationship shifts in unexpected ways...
and dreams and secrets collide?

- Publisher
You May Also Be Interested In
About "A Sensible Arrangement (#01 in Lone Star Brides Series)"
Marty Dandridge Olson is ready to leave behind the pain of the past.
Answering an advertisement for a "Lone Star bride," she leaves her Texas ranch and heads to Denver to marry a man she doesn't know.

Jake Wythe is the man waiting for her.
Burned by love, he marries now simply to satisfy the board of Morgan Bank, which believes a man of his standing in society should be wed. Together Jake and Marty agree they are done with romance and love and will make this nothing more than a marriage of convenience.

When missing money and a collapsing economy threaten his job, Jake's yearning to return to ranching grows ever stronger, much to Marty's dismay. But a fondness has grown between them, as well, further complicating matters.

What will happen when their relationship shifts in unexpected ways...
and dreams and secrets collide?
- Publisher


Meet the Author
Tracie Peterson
Tracie Peterson is a full-time author who has written or co-written over 60 novels in both historical and contemporary genres which regularly appear on the bestseller lists, including the WESTWARD CHRONICLES, the YUKON QUEST and the SHANNON SAGA series. Tracie also teaches writing workshops at a variety of conferences on subjects including inspirational romance and historical research. Tracie and her family live in Montana. - Publisher.
Customer Reviews For "A Sensible Arrangement (#01 in Lone Star Brides Series)"
Write Your Own Review
Hard Times
By Joy,

Feb 15 2017
What damage can lying do?  This book shows how lies can cause so many problems with those who love us and those we love. Usually lies are told to protect ourselves but, as you will see in this interesting plot, lies cause the liar pain in relationships with others and with God. Pain is also within.
In this book the one who lies has been hurt and blames God but this doesn't justify her lies yet for herself she sees the other side. A story worth reading to see how the change occurs.
---
Classic Storyline Very Well Done
By Margot,

Feb 25 2015
One of my favourite story lines, so well done - the loveless marriage of convenience, becoming a marriage of love - I enjoyed watching love grow between Marty and Jake. Marty so set in her ways and so full of secrets, so determined not to go back to Texas. Jake wanting so much to keep appearances up and do whatever it takes to return to Texas. I loved that Marty could open Jake's eyes to just how much the bank owners were pulling his strings. I loved the look Tracie Peterson gave us into the way well-to-do households ran, the distinction between the wealthy and the staff, and how lovely it is when invisible lines are crossed so that friendship and respect can grow. This was a delightful and inspirational story and I look forward to the rest of the series.
---
great read
By sarah,

Jun 05 2014
The story centres around Marty, a widow whose constant reminder of all she has lost leads her to become a mail-order bride for a man living in the city, far away from the country home she has always known. Neglecting to inform her family of her plans, she lies about going on a holiday and meets her fianc, Jake. Jake has his own plans which he keeps hidden from others. As the two start their lives together, their secrets and lies lead them astray until they discover the importance of truth and honesty. I particularly enjoyed the supporting cast of characters including Alice, and Brighton. Their stories help make this book an enjoyable read for a couple of days.  
---
Lacking romance
By Iola,

Apr 24 2014
My problem with A Sensible Arrangement was that I expect a marriage of convenience story to have a strong romantic element. While in real life these situations were undoubtedly the challenge of two complete strangers learning to build a life together, in Christian fiction (and general market fiction), a marriage of convenience is two strangers falling in love. This was a real weakness in A Sensible Arrangement-I never felt Mary and Jacob spent enough time together to develop a lasting relationship. If you leave aside the fact that A Sensible Arrangement wasn't a romance, it did have several strengths. Marty was a particularly interesting character. She was a strong and independent woman who makes her own choices (as illustrated by the fact she left a steady existence for the uncertainty of being a mail-order bride in faraway Denver), yet she was a compulsive liar who constantly tried to reconcile her lack of truthfulness towards Jacob as being for the best. I did find her lying somewhat tiresome, as I didn't understand her reason for lying for most of the novel (and when it was finally revealed, it seemed a little illogical). Overall, while I enjoyed the historical aspects and the relationships between the minor characters, I wasn't convinced by the romance between Marty and Jacob. I'm sure Tracie Petersen fans will enjoy it.

Thanks to Litfuse Publicity for providing a free ebook for review.

{{review.title}}
By {{review.author.name}},

{{review.reviewCreatedDate | date:'MMM dd yyyy'}}

{{reviewdescription}}
{{review.text}}
---
Other Titles In The "Lone Star Brides Series" Series View All