A Shift a Day For Your Best Year Yet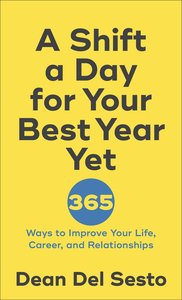 Regardless of where you are in life, change is always an opportunity. The most immediate path to lasting positive change will always be found in how we think about things. We either frame the various areas of our lives to regress, remain stagnant, or accelerate forward, and a single shift in our thought patterns can change everything for us.

That's what A Shift a Day for Your Best Year Yet is all about. Small shifts that add up to dynamic new directions. With these 365 original quotes, readers will find themselves well on their way down the path to greater success in their work, relationships, and lives. Short, memorable, and to-the-point, each thought-provoking page is designed to interrupt thinking that doesn't work and replace it with thinking that does.

The perfect spontaneous gift for a friend or impulse buy for oneself.

- Publisher
You May Also Be Interested In
About "A Shift a Day For Your Best Year Yet"
Regardless of where you are in life, change is always an opportunity. The most immediate path to lasting positive change will always be found in how we think about things. We either frame the various areas of our lives to regress, remain stagnant, or accelerate forward, and a single shift in our thought patterns can change everything for us.

That's what A Shift a Day for Your Best Year Yet is all about. Small shifts that add up to dynamic new directions. With these 365 original quotes, readers will find themselves well on their way down the path to greater success in their work, relationships, and lives. Short, memorable, and to-the-point, each thought-provoking page is designed to interrupt thinking that doesn't work and replace it with thinking that does.

The perfect spontaneous gift for a friend or impulse buy for oneself.
- Publisher


Meet the Author
Dean Del Sesto
Dean Del Sesto has been in the marketing, branding, and corporate development business his whole life. Today, he runs an award-winning branding, interactive, and communications agency called Breviti (www.breviti.com) and is also a partner in Veracity Colab, a B2B and consumer based digital agency (www.veracitycolab.com).With over 25 years in the field, Dean has had the pleasure to be directly involved in the local to enterprise-wide brand development of over 800 companies and still loves it today. Dean finds great joy in counseling, advising,and collaborating with others in the areas of marriage, relationships, business, and addiction. He and his wife have been married almost 20 years and live in Irvine, California.