A Simple Mistake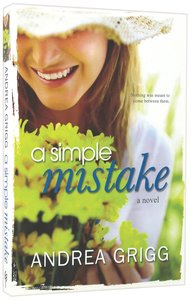 When teenage sweethearts Nick and Lainey meet again after more than a decade, so much has changed. Nick is now a famous celebrity and Lainey is the girl he left behind. As a member of a highly successful band and with an emerging acting career, Nick can have any girl he wants.
Now he wants Lainey back.

Despite Nick's promise to keep in touch when he left to seek fame and fortune, Lainey never heard from him. Now that time has passed, she has moved on from what she felt. Or has she?

After discovering what kept them apart for so long, they tentatively rekindle their past romance. The feelings are just as strong as before but can Lainey accept Nick's lack of faith? And can their new relationship survive Lainey's secret?


- Publisher
You May Also Be Interested In
About "A Simple Mistake"
When teenage sweethearts Nick and Lainey meet again after more than a decade, so much has changed. Nick is now a famous celebrity and Lainey is the girl he left behind. As a member of a highly successful band and with an emerging acting career, Nick can have any girl he wants.
Now he wants Lainey back.

Despite Nick's promise to keep in touch when he left to seek fame and fortune, Lainey never heard from him. Now that time has passed, she has moved on from what she felt. Or has she?

After discovering what kept them apart for so long, they tentatively rekindle their past romance. The feelings are just as strong as before but can Lainey accept Nick's lack of faith? And can their new relationship survive Lainey's secret?

- Publisher


Meet the Author
Andrea Grigg
Andrea Grigg grew up in Auckland, New Zealand, but has lived more than half her life in Australia. She lives with her husband on Queensland's Gold Coast, where they raised their three children, now adults. Recently retired from teaching ten-year-olds, if she isn't being a domestic executive or socialising, Andrea can be found in her cave, writing stories.
Customer Reviews For "A Simple Mistake"
Write Your Own Review
Not a mistake to read
By Dale Harcombe,

Jan 14 2014
 Lainey and Nick had been friends as children and romantically involved in their early teenage years. But then circumstances intervene and they are parted. Ten years have gone by. Lainey, a school teacher, is a committed Christian but one who guards a secret hardly anyone knows. Nick meanwhile has become celebrity as the lead singer of the Mavericks. His life is one of money, tours and women throwing themselves at him. Their lives could not be further apart. So when they meet up again, even though the strong feelings are still there, Lainey knows realistically it cannot head anywhere because Nick is not a Christian and a guy with no intention of changing. 
I really liked the way this novel brought out the vital importance of the bible verse about believers not being yoked with unbelievers. It was brought into play in such a realistic way and didn't make out that it is easy to abide by such a command from God. It provided insights into the seriousness of the situation.We see the struggle as Lainey is put to the test about how much she trusts God with her life. I also liked the bantering dialogue and sense of playfulness that exists between Lainey and Nick and I liked that Lainey wasn't one of those girls who is so weight conscious she won't eat properly. She has a healthy appetite. The misunderstandings that take place at times added to the plot. This is the first book I have read by this author and I thoroughly enjoyed it.
---
Wonderful. Amazing - A must read!!!!
By Booklovers1,

Jul 02 2013
Wow, what a novel!!! Andrea Grigg's novel 'A Simple mistake' is one that will definitely touch your heart and make you laugh and cry alongside Lainey and Nick.
 Nick Crusack and Lainey Sullivan, childhood sweethearts, meet again after a decade, where the simple mistake of the wrong address kept them apart. Although many things have changed, their love is still as strong as ever, especially when Lainey shares her secret with Nick, bringing them closer together. Other special factors also contribute to their relationship, giving them more meaning.
 Nick Crusack is now a big successful music star in the band "The Mavericks" and has an emerging acting career. He is able to choose any woman he wants, however his heart has always belonged to Lainey. However his fall away from his childhood faith proves to be the only hurdle his stubborn and arrogant personality has to overcome to get what he wants. 

What I love most about this book is the way it is written. For me, books normally take about 10 chapters to get the hang of things. However Grigg's fluent writing has you hooked within the first chapter, where the characters come alive. I also love the dynamics between Nick and Lainey because the chemistry revealed that they truly belonged together. What I really got out of this book was Lainey's strong faith for it got me thinking, 'Would I act the same way to the man I loved because of what Christ commands?' I would like to think I would however can imagine myself struggling. Another factor I really loved was the humour and cheekiness that truly translated Nick and Lainey's childhood relationshipfriendship, demonstrating that they are part of each other. 

Overall, this story is one I will definitely read in the future and in my top 5 books for a long time. I highly recommend it for youwill definately feel like you're a part of this world. 

---
Aussie Drama
By Ausjenny,

Jan 27 2013
I bought this book last year when it was first released but hadn't had a chance to read it. It is an interesting read and I did enjoy it. At the same time there were times I found it slow reading and just wanted something to happen. I was knew it would happen and was wishing it to happen sooner. There were also times it moved quickly and as the book moved on the speed picked up. I enjoyed Lainey but had a lot of trouble relating to Nick. I think it was more the fact of his occupation its not a lifestyle I have much knowledge of but was interested in seeing where the story went. I would say for some of my American friends the book is a little edgy with some of the conversations and things that happen although at the same time real to life and while edgy it is still a very clean book, just some may be uncomfortable with some of the dialogue. I did enjoy seeing the struggles Lainey and Nick had to endure and seeing what would happen. I would read more books from the Author.
---
Fabulous Read
By Shirley Corder,

Jan 26 2013
I was well and truly hooked into this book before I even opened it! What a gorgeous cover!
 
The two main characters, Nick and Lainey are both so real I felt as if I knew them personally. At times I wanted to shake the pair of them for being so stubborn or obtuse!
 
After a ten year break, Nick returns to his home town and meets up with Lainey once again. Nick is now famous with an amazing future ahead of him, and Lainey has finally managed to put him behind her, and move on . . . or so she thought. Once they meet up again, it is clear that the chemistry is still active between them, and they are both drawn back toward each other. However there are two major problems.
 
One is that Nick has turned from the God of his younger days, while Lainey has become a deeply-committed Christian. The other is a secret that Lainey is reluctant to share with Nick. Will their relationship survive these two issues? Is there a future for this couple? You'll need to read this delightful story to find out for yourself.
---
A Simple Mistake
By Narelle Atkins,

Oct 22 2012
I really enjoyed reading this fun romance set in Sydney and Gold Coast, Australia. Lainey is an ordinary girl thrown into an extraordinary situation when she reconnects with Nick at a wedding. Nick is a hero to die for and, despite having his pick of gorgeous women, he wants Lainey. She struggles with her strong feelings for Nick and the knowledge that they would be unequally yoked if they married. We journey with Lainey and Nick as they face a number of obstacles and a big secret from the past. I recommend this book to those looking for a contemporary romance that deals with real issues facing young Christian women today.
{{review.title}}
By {{review.author.name}},

{{review.reviewCreatedDate | date:'MMM dd yyyy'}}

{{reviewdescription}}
{{review.text}}
---