A Simplified Harmony of the Gospels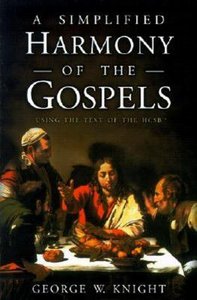 A Simplified Harmony of the Gospels is a time-honored reference format made easier to follow.

- Publisher Most of the Gospel Harmonies use parallel columns to give side-by-side comparisons of the various events in Jesus' life and ministry. But how much easier could His storyline be followed if it were presented in one seamless narrative, streamlined in chronological order? Features: - The four Gospels woven into a single, running narrative - All Scriptures taken from the Holman Christian Standard Bible - Sidebars call attention to major themes and difficult passages in the Gospels - Hundreds of study notes-- a regular feature of every page--illuminate the text - Useful for both lesson and sermon preparation as well as stand-alone reading - Systematic reading plan for family worship and devotional use

- Publisher The four gospels woven into a single running narrative featured in HCSB translation.

- Publisher
You May Also Be Interested In
About "A Simplified Harmony of the Gospels"
A Simplified Harmony of the Gospels is a time-honored reference format made easier to follow.
- Publisher

Most of the Gospel Harmonies use parallel columns to give side-by-side comparisons of the various events in Jesus' life and ministry. But how much easier could His storyline be followed if it were presented in one seamless narrative, streamlined in chronological order? Features: - The four Gospels woven into a single, running narrative - All Scriptures taken from the Holman Christian Standard Bible - Sidebars call attention to major themes and difficult passages in the Gospels - Hundreds of study notes-- a regular feature of every page--illuminate the text - Useful for both lesson and sermon preparation as well as stand-alone reading - Systematic reading plan for family worship and devotional use
- Publisher

The four gospels woven into a single running narrative featured in HCSB translation.
- Publisher


Meet the Author
George W Knight
George W. Knight (Th.D. Free University of Amsterdam) is adjunct-professor of New Testament at Greenville Presbyterian Theological Seminary's Charlotte Extension, a longtime writer and scholar who has overseen and contributed to many major Bible reference works including the HCSB, Simplified Harmony of the Gospels; The Pastoral Epistles: A Commentary on the Greek Text (New Internation Commentary of the Greek New Testament); The Faithful Sayings in the Pastoral Epistles and The Role Relationship of Men and Women..
Koorong -Editorial Review.