A Sweet Misfortune (#02 in Virtues And Vices Of The Old West Series)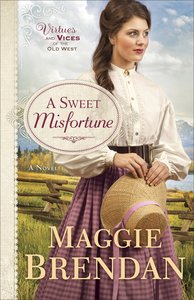 Rachel Matthews isn't one to rely on others to take care of her. Destitute and alone, she still wants to make her own way and her own money--even if she's forced into the life of a dance hall girl. Horrified by her circumstances, Rachel's brother sends a friend--the widely admired cattle baron John McIntyre--to rescue her, then sets off to earn enough money to buy back the family ranch. But when months pass without her brother's return, Rachel isn't sure she can take one more day in John McIntyre's home--especially once she discovers that he's the one who holds the deed to her family's ranch.

Sparks fly between this spunky, independent heroine and the ruggedly handsome hero as they navigate the snarled terrain of pride, greed, faith, and love in Maggie Brendan's delightful series set in the Old West.

- Publisher
You May Also Be Interested In
About "A Sweet Misfortune (#02 in Virtues And Vices Of The Old West Series)"
Rachel Matthews isn't one to rely on others to take care of her. Destitute and alone, she still wants to make her own way and her own money--even if she's forced into the life of a dance hall girl. Horrified by her circumstances, Rachel's brother sends a friend--the widely admired cattle baron John McIntyre--to rescue her, then sets off to earn enough money to buy back the family ranch. But when months pass without her brother's return, Rachel isn't sure she can take one more day in John McIntyre's home--especially once she discovers that he's the one who holds the deed to her family's ranch.

Sparks fly between this spunky, independent heroine and the ruggedly handsome hero as they navigate the snarled terrain of pride, greed, faith, and love in Maggie Brendan's delightful series set in the Old West.
- Publisher


Meet the Author
Maggie Brendan
Maggie Brendan is a member of American Christian Writers and the American Fiction Writers Association, and is a contributor to www.bustlesandspurs.com, a website for inspirational romance in the old West. You can read her blog at southernbellewriter.blogspot.com. She is the author of No Place for a Lady and The Jewel of His Heart, and lives in Georgia.
Other Titles In The "Virtues And Vices Of The Old West Series" Series View All