A Theological Introduction to the Pentateuch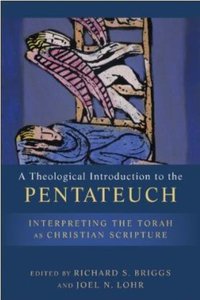 In this concise volume, a team of fresh Old Testament voices explores the theological dimensions of the Pentateuch and provides specific examples of critically engaged theological interpretation. This Pentateuch text is unique in that it emphasizes theological reading, serving as an affordable supplement to traditional introductory Pentateuch texts. Each chapter introduces theological themes and issues in interpretation then offers exegesis of one or two representative passages to model theological interpretation in practice. This useful text will be valued by students of the Old Testament and the Pentateuch as well as pastors.

- Publisher
You May Also Be Interested In
About "A Theological Introduction to the Pentateuch"
In this concise volume, a team of fresh Old Testament voices explores the theological dimensions of the Pentateuch and provides specific examples of critically engaged theological interpretation. This Pentateuch text is unique in that it emphasizes theological reading, serving as an affordable supplement to traditional introductory Pentateuch texts. Each chapter introduces theological themes and issues in interpretation then offers exegesis of one or two representative passages to model theological interpretation in practice. This useful text will be valued by students of the Old Testament and the Pentateuch as well as pastors.
- Publisher


Meet the Authors
Richard Briggs
Dr Richard Briggs (Ph.D., University of Nottingham) is Director of Biblical Studies and Hermeneutics at Cranmer Hall, Durham. He studied Mathematics and Philosophy at Oxford, and then Theology at London Bible College, and the University of Nottingham, where he obtained a PhD for a thesis on "Speech Act Theory and Biblical Interpretation" (published as Words in Action in 2001).
He was involved in church planting ministry in Nottingham, preaches regularly, and has written widely on the subject of biblical interpretation. He is the author of Reading the Bible Wisely (SPCK, 2003); Light to Live By: How to Interpret the Bible (Scripture Union, 2005); Living for God (Piquant, 2008), and most recently The Virtuous Reader: Old Testament Narrative and Interpretive Virtue (Bakerbooks, 2010), as well as several other academic articles. Richard is married to Melody and they have three children
Koorong -Editorial Review.
Table Of Contents
Introduction: Reading The Pentateuch As Christian Scripture richard S. Briggs And Joel N. Lohr
1. The Book Of Genesis richard S. Briggs
2. The Book Of Exodus Jo Bailey Wells
3. The Book Of Leviticus joel N. Lohr
4. The Book Of Numbers nathan Macdonald
5. The Book Of Deuteronomy rob Barrett
appendix: The Writings Of R. W. L. Moberly On The Pentateuch nathan Macdonald With Richard S. Briggs
indexes