A Theology For the Church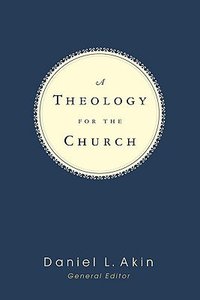 A Theology for the Church, an immense 992-page work edited by Daniel Akin, with contributions from leading Baptist thinkers, addresses four major issues in regard to eight Christian doctrines. What does the Bible say? Each Christian doctrine is rooted in the Bible's own teaching in both the Old and New Testaments. What has the church believed? Christians have interpreted these doctrines in somewhat different ways through the centuries. How do the doctrines fit together? Each Christian doctrine must cohere with the other doctrines. How does each doctrine impact the church today? Each Christian doctrine must be meaningful for today's church.

- Publisher
You May Also Be Interested In
About "A Theology For the Church"
A Theology for the Church, an immense 992-page work edited by Daniel Akin, with contributions from leading Baptist thinkers, addresses four major issues in regard to eight Christian doctrines. What does the Bible say? Each Christian doctrine is rooted in the Bible's own teaching in both the Old and New Testaments. What has the church believed? Christians have interpreted these doctrines in somewhat different ways through the centuries. How do the doctrines fit together? Each Christian doctrine must cohere with the other doctrines. How does each doctrine impact the church today? Each Christian doctrine must be meaningful for today's church.
- Publisher


Meet the Author
Daniel L Akin
Dr. Daniel L. Akin (Ph.D., University of Texas at Arlington) became the sixth president of Southeastern Baptist Theological Seminary in 2004, and also serves as Professor of Preaching and Theology. He has also authored numerous articles and several books including Epistles of John (New American Commentary); Song of Solomon (Holman Bible Commentary), and God on Sex.