A Theology of Luke and Acts (Biblical Theology Of The New Testament Series)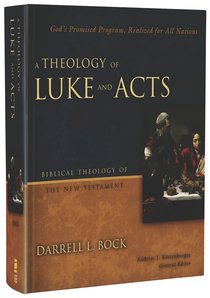 Zondervan's Biblical Theology of the New Testament Series has for years provided pastors, students, and readers with valuable analyses of New Testament books and their contents. In this latest installment, Darrell L. Bock examines Luke and Acts, drawing from his years of experience in biblical theory and interpretation to write an informative resource sure to prove invaluable for seekers of holistic biblical understanding. A Theology of Luke and Acts identifies and evaluates the contribution of Luke, both to the New Testament and to the Bible as a whole text. Bock aims to demonstrate Luke's significance and his influence in the development of theological discourse. Features include:
* Lukan themes and thematic relevance
* Interpretation and significance of language and vocabulary
* Contextual importance of Luke's placement in the Bible.

Continuing the valuable tradition of the Biblical Theology of the New Testament Series, Bock's theories regarding Luke and Acts will prove a lasting resource for pastors and aspiring biblical scholars alike.


- Publisher
You May Also Be Interested In
About "A Theology of Luke and Acts (Biblical Theology Of The New Testament Series)"
Zondervan's Biblical Theology of the New Testament Series has for years provided pastors, students, and readers with valuable analyses of New Testament books and their contents. In this latest installment, Darrell L. Bock examines Luke and Acts, drawing from his years of experience in biblical theory and interpretation to write an informative resource sure to prove invaluable for seekers of holistic biblical understanding. A Theology of Luke and Acts identifies and evaluates the contribution of Luke, both to the New Testament and to the Bible as a whole text. Bock aims to demonstrate Luke's significance and his influence in the development of theological discourse. Features include:
* Lukan themes and thematic relevance
* Interpretation and significance of language and vocabulary
* Contextual importance of Luke's placement in the Bible.

Continuing the valuable tradition of the Biblical Theology of the New Testament Series, Bock's theories regarding Luke and Acts will prove a lasting resource for pastors and aspiring biblical scholars alike.

- Publisher


Meet the Authors
Darrell L Bock
Darrell L.Bock (Ph.D., University of Aberdeen) is Research Professor of New Testament Studies, Professor of Spiritual Development and Culture (CCL) at Dallas Theological Seminary. Dr. Bock has earned international recognition as a Humboldt Scholar (Tubingen University in Germany).He is the author or editor of many books, including the two-volume commentary on Luke and the volume on Acts (Baker Exegetical Commentary on the New Testament series), Jesus according to Scripture, The Missing Gospels, Jesus in Context, and Studying the Historical Jesus.
Andreas J Kostenberger
Andreas J. Kostenberger (Drs., Vienna University of Economics, Ph.D., Trinity Evangelical Divinity School) is Professor of New Testament/Director of Ph.D. Studies at South East Baptist Theological Seminary, Wake Forest. He is also the editor of the Journal of the Evangelical Theological Society, and the author of numerous books including The Gospel of John (Baker Exegetical Commentary of the New Testament) Encountering the Gospel of John, The Book Study Concordance of the Greek New Testament, and The Missions of Jesus and the Disciples according to the Fourth Gospel.
He also translated Adolf Schlatter's two-volume New Testament Theology. His current publications include The Pastoral Epistles (Revised Expositor's Bible Commentary); A Theology of John's Gospel and Letters: The Word, the Christ, the Son of Godand The Cradle, The Cross and The Crown.
Koorong-Editorial Review..
Other Titles In The "Biblical Theology Of The New Testament Series" Series View All