A Touch of Grace (#03 in Daughters Of Blessing Series)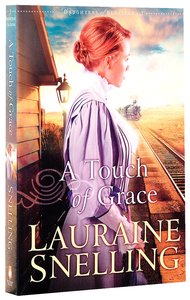 Eighteen-year-old Grace Knutson loves Blessing, North Dakota, and sees no reason to leave. She's more serious-minded than her twin sister, Sophie, and very sensitive to the feelings of others. In spite of her family's disapproval, Grace has always had a soft spot in her heart for Toby Valders, for she's seen the vulnerable side he keeps well hidden.

Jonathan Gould, the handsome scion of a wealthy New York family, creates a flurry of anticipation and speculation when he arrives in Blessing. Jonathan's father wants him to learn the value of manual labor and to appreciate the accomplishments of those not born to wealth. Surprisingly, the "city boy" takes to farm life and actually enjoys working from dawn to dusk alongside the others. Soon he finds himself inexplicably drawn to gentle, courageous Grace.

But Jonathan's affection presents an agonizing dilemma for Grace. Is he truly the one her heart desires?



- Publisher
Also Available In
You May Also Be Interested In
About "A Touch of Grace (#03 in Daughters Of Blessing Series)"
Eighteen-year-old Grace Knutson loves Blessing, North Dakota, and sees no reason to leave. She's more serious-minded than her twin sister, Sophie, and very sensitive to the feelings of others. In spite of her family's disapproval, Grace has always had a soft spot in her heart for Toby Valders, for she's seen the vulnerable side he keeps well hidden.

Jonathan Gould, the handsome scion of a wealthy New York family, creates a flurry of anticipation and speculation when he arrives in Blessing. Jonathan's father wants him to learn the value of manual labor and to appreciate the accomplishments of those not born to wealth. Surprisingly, the "city boy" takes to farm life and actually enjoys working from dawn to dusk alongside the others. Soon he finds himself inexplicably drawn to gentle, courageous Grace.

But Jonathan's affection presents an agonizing dilemma for Grace. Is he truly the one her heart desires?


- Publisher


Meet the Author
Lauraine Snelling
Lauraine Snelling is an award-winning author of over 50 books including The Healing Quilt, The Way of Women, and Saturday Morning. The recipient of the Silver Angel Award and a Romance Writers of America Golden Heart, she also writes for a wide range of magazines and teaches at writers' conferences across the country. She and her husband make their home in Tehachapi, California.
-Publisher.


Other Titles In The "Daughters Of Blessing Series" Series View All