A Trip Around the Sun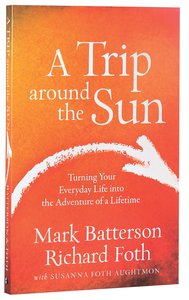 :What happens when we take Jesus at his word when he says, "I have come that you might have life and have it to the full?" New York Times bestselling author Mark Batterson and his mentor Richard Foth have done just that with their lives--and in A Trip around the Sun, they show readers how they too can experience their life and faith as the ultimate adventure.

In a fun, storytelling style, Mark and Dick challenge readers to shake off fear, dream big, and quit living as if the purpose of life is to arrive safely at death. The accumulated wisdom from their combined 117 trips around the sun radiates from every heartfelt page, invigorating those of us who have found ourselves stuck in a rut dug by our sense of duty and our fear of the unknown. Anyone who wants to grab life and squeeze every ounce of joy out of it will be inspired by this unapologetic celebration of the life Jesus died to give us.

- Publisher
You May Also Be Interested In
About "A Trip Around the Sun"
:What happens when we take Jesus at his word when he says, "I have come that you might have life and have it to the full?" New York Times bestselling author Mark Batterson and his mentor Richard Foth have done just that with their lives--and in A Trip around the Sun, they show readers how they too can experience their life and faith as the ultimate adventure.

In a fun, storytelling style, Mark and Dick challenge readers to shake off fear, dream big, and quit living as if the purpose of life is to arrive safely at death. The accumulated wisdom from their combined 117 trips around the sun radiates from every heartfelt page, invigorating those of us who have found ourselves stuck in a rut dug by our sense of duty and our fear of the unknown. Anyone who wants to grab life and squeeze every ounce of joy out of it will be inspired by this unapologetic celebration of the life Jesus died to give us.
- Publisher


Meet the Authors
Mark Batterson
Mark Batterson is the New York Times bestselling author of The Circle Maker, The Grave Robber, A Trip around the Sun, and If. He is the lead pastor of National Community Church, one church with eight campuses in Washington, DC. Mark has a doctor of ministry degree from Regent University and lives on Capitol Hill with his wife, Lora, and their three children.
Susanna Foth Aughtmon
Susanna Foth Aughtmon is a pastor's wife and mother of three. She graduated from Bethany College with a BA in Social Science emphasizing psychology and early childhood education. After pursuing various careers, including her own interior decorating business, she decided to stay home as a full-time mom. She assists her husband, Scott, in various ministries at the church they planted in Palo Alto, California.
Richard Foth
Richard Foth is a sought-after speaker, a pastor, and the coauthor of When the Giant Lies Down. He speaks at churches, colleges, and retreats around the world, connecting people to the love of Christ. He and his wife, Ruth, have four children and eleven grandchildren and live in Colorado.