A View From the Buggy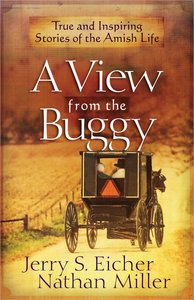 Most of us want a simpler life, and there's no better example of the simple life than found among the Amish. But what is it really like to be Amish? In this delightful compilation of stories by more than 30 Amish men and women, you'll get the inside story on the daily life of Amish families. With humor, grace, and charm, these "plain" people tell their stories; bringing tears, laughter, and an occasional dose of Amish wisdom to your heart. You'll learn...how the Amish love their animals; the joys of a community-wide barn-raising; the ways the Amish handle great tragedy; and how the Amish find happiness in giving more than receiving. This unforgettable book is compiled by two men who know the Amish. Author Jerry S. Eicher was raised as an Amish boy and Nathan Miller is a member of the Old Order Amish.

- Publisher
You May Also Be Interested In
About "A View From the Buggy"
Most of us want a simpler life, and there's no better example of the simple life than found among the Amish. But what is it really like to be Amish? In this delightful compilation of stories by more than 30 Amish men and women, you'll get the inside story on the daily life of Amish families. With humor, grace, and charm, these "plain" people tell their stories; bringing tears, laughter, and an occasional dose of Amish wisdom to your heart. You'll learn...how the Amish love their animals; the joys of a community-wide barn-raising; the ways the Amish handle great tragedy; and how the Amish find happiness in giving more than receiving. This unforgettable book is compiled by two men who know the Amish. Author Jerry S. Eicher was raised as an Amish boy and Nathan Miller is a member of the Old Order Amish.
- Publisher


Meet the Authors
Jerry S Eicher
Jerry Eicher's bestselling Amish fiction (more than 210,000 in combined sales) includes The Adams County Trilogy, the Hannah's Heart books, and the Little Valley Series. After a traditional Amish childhood, Jerry taught for two terms in Amish and Mennonite schools in Ohio and Illinois. Since then he's been involved in church renewal, preaching, and teaching Bible studies. Jerry lives with his wife, Tina, and their four children in Virginia.
Nathan Miller
Nathan Miller, a four-time nominee for the Pulitzer Prize, is the author of FDR: An Intimate History, The Roosevelt Chronicles, and The U.S. Navy.