A Week in the Life of a Roman Centurion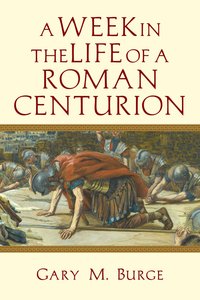 :Enter a world of warfare and treachery, of duty and honor, of love and loyalty, interwoven with the inner workings of a Roman centurion's household. And then trace it as the road curves toward little Capernaum. Follow the story of Appius, a proud centurion, and Tullus, his scribe and slave. From a battle with the Parthians, through a tragic personal crisis, to the gladiator arena at Caesarea Maritima, their tale finally leads to the backwater village of Capernaum on the shores of Galilee. There, in a culture not their own and during a week they will never forget, they encounter a Jewish prophet from Nazareth. A Week in the Life of a Roman Centurion gives us an empire-eye view of the world of the Gospels. In entertaining historical fiction, splashed with informative sidebars and images, we capture a view of Jesus' world from the outer framework looking in.

- Publisher
You May Also Be Interested In
About "A Week in the Life of a Roman Centurion"
:Enter a world of warfare and treachery, of duty and honor, of love and loyalty, interwoven with the inner workings of a Roman centurion's household. And then trace it as the road curves toward little Capernaum. Follow the story of Appius, a proud centurion, and Tullus, his scribe and slave. From a battle with the Parthians, through a tragic personal crisis, to the gladiator arena at Caesarea Maritima, their tale finally leads to the backwater village of Capernaum on the shores of Galilee. There, in a culture not their own and during a week they will never forget, they encounter a Jewish prophet from Nazareth. A Week in the Life of a Roman Centurion gives us an empire-eye view of the world of the Gospels. In entertaining historical fiction, splashed with informative sidebars and images, we capture a view of Jesus' world from the outer framework looking in.
- Publisher


Meet the Author
Gary M Burge
Gary M. Burge (Ph.D., King's College, Aberdeen University) has been Professor of New Testament at Wheaton College since 1992. He has a longstanding interest with the literature of John and Palestine (including Evangelical involvement with it).
His publications evidence this The New Testament in Antiquity; Whose Land? Whose Promise? What Christians are not being told about Israel and the Palestinians; Commentary on the Gospel of John (The NIV Application Commentary); Commentary on the Johannine Epistles. (The NIV Application Commentary), Interpreting the Gospel of John (Guides to New Testament Exegesis) and The Anointed Community. The Holy Spirit in the Johannine Tradition. Most recently he has launched a multivolume series Ancient Context, Ancient Faith with the first two volumes The Bible and the Land and Jesus, the Middle-Eastern Storyteller:
-Editorial Review.
Table Of Contents
:characters1. From Emesa To Raphana2. From Raphana To Dura-europos3. From Dura-europos To Raphana4. From Raphana To Caesarea5. Caesarea6. From Caesarea To Capernaum7. Capernaum8. Capernaum's Midwife9. Capernaum's Synagogue10. One Week In Capernaum