A Woman and Her God (Extraordinary Women Series)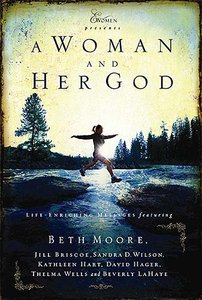 The best-selling Extraordinary Women Series is now available in Trade Paper!

- Publisher Many of today's most extraordinary Christian women communicators join together to impart the wisdom God has given them--and to help women realize all God intended for them.Features Jill Briscoe, Beth Moore, Sandra D. Wilson, Kathleen Hart, David Hager, Thelma Wells, and Beverly LaHaye.

- Publisher Most women today feel anything but extraordinary. Trying to meet the everpressing demands of career, church and family leaves us feeling stressed, overwhelmed and frazzled. At our best, we feel average. At our worst, we feel like we'll never measure up to people's expectations. Yet God says that we are extraordinary. And He invites us to a closer relationship with Him through these three books. In them, some of today's most beloved Christian communicators share insights that will help readers grow closer to their heavenly Father, face adversity with a deeper faith and make their marriages rock-solid.

- Publisher
You May Also Be Interested In
About "A Woman and Her God (Extraordinary Women Series)"
The best-selling Extraordinary Women Series is now available in Trade Paper!
- Publisher

Many of today's most extraordinary Christian women communicators join together to impart the wisdom God has given them--and to help women realize all God intended for them.Features Jill Briscoe, Beth Moore, Sandra D. Wilson, Kathleen Hart, David Hager, Thelma Wells, and Beverly LaHaye.
- Publisher

Most women today feel anything but extraordinary. Trying to meet the everpressing demands of career, church and family leaves us feeling stressed, overwhelmed and frazzled. At our best, we feel average. At our worst, we feel like we'll never measure up to people's expectations. Yet God says that we are extraordinary. And He invites us to a closer relationship with Him through these three books. In them, some of today's most beloved Christian communicators share insights that will help readers grow closer to their heavenly Father, face adversity with a deeper faith and make their marriages rock-solid.
- Publisher


Meet the Authors
Jill Briscoe
Jill Briscoe and her husband Stuart have worked together for over 40 years, and have three grown children and 13 grandchildren. A native of Liverpool, Jill is a prolific writer and author of The Deep Place where Nobody Goes, God's Front Door, Prayer that Works and Faith that Works and many other books. Jill serves on the board of directors of World Relief and of Christianity Today, and is a popular speaker at key Christian events around the world. Jill and Stuart live in Milawukee, Wisconsin. - Publisher.
Beth Moore
Beth Moore was born Wanda Elizabeth Green in 1957, on an Army base in Green Bay, Wisconsin, the fourth of five children. She was raised in Arkadelphia, Arkansas, where her father - a retired army officer - managed the local cinema, and it was there that Beth's lifelong love for stories began. She loved to tell them, write them, and be told them. But the story that captured her heart more than any other was not told in a movie theatre. It was the story told in Sunday School, about Jesus, a Saviour who loved children and who thought she was special. A seed was planted in her young heart that would grow to a passionate love for Christ.

At the age of 18, Beth sensed God calling her to work for Him, although she couldn't yet imagine what that might involve. She graduated from Southwest Texas State University with a degree in political science, and would later receive an honorary doctorate in humanities from Howard Payne University. She married Keith Moore in 1978 and soon after the Lord added Amanda and Melissa to the family.

Beth's involvement with the Bible intensified when she took a doctrine class at her church. Her teacher was Buddy Walters, a former college football player who taught the Scriptures with tears streaming down his cheeks. She fervently prayed for such a passion for God's Word.

Beth founded Living Proof Ministries in 1994 with the purpose of teaching women how to love God's Word and put it at the centre of their lives. She has written numerous books - including Breaking Free, Believing God, The Patriarchs and James: Mercy Triumphs - that have been read by women of all ages, backgrounds, and denominations. Beth runs conferences for women across the United States annually, and has also taken her ministry to many different countries, including Ireland, England, Singapore, the Philippines, Puerto Rico, India, Angola, Kenya, and South Africa. Since 2004, Beth has conducted a radio ministry 'Living Proof with Beth Moore', and has a weekly spot on the television program LIFE Today. Ever the storyteller, Beth is known for enlivening her teaching with stories and poems written from the perspective of biblical characters. She communicates with great energy, humour, warmth, and grace.

For over a quarter of a century from the 1980s, Beth attended the First Baptist Church in Houston, Texas, transferring in 2011 to Bayou City Fellowship, where her son-in-law Curtis Jones is the founding pastor.

Beth and and her husband Keith enjoy travelling, hiking, drinking coffee on the back porch, eating Mexican food, making each other laugh, walking their dogs, and being grandparents. Both of their daughters, Amanda and Melissa, serve with Living Proof Ministries, and Amanda's husband, Curtis, serves on staff as an associate speaker/teacher.
Sandra D Wilson
Sandra D. Wilson is a seminary professor, certified spirituaSandra D. Wilson is a seminary professor, certified spiritual director and retired family therapist. She is an internatil director and retired family therapist. She is an international speaker and the author of six books: Released from Shamonal speaker and the author of six books: Released from Shame, Into Abba's Arms, Hurt People Hurt People, The World Accoe, Into Abba's Arms, Hurt People Hurt People, The World According to Me, Shame-Free Parenting and Counseling Adult Childrding to Me, Shame-Free Parenting and Counseling Adult ChildC
Beth Jill Briscoe
Beth Moore is a writer and teacher of best-selling books and Bible studies whose public speaking engagements carry her all over the United States. A dedicated wife and mother of two adult daughters, Moore lives in Houston, Texas, where she is president and founder of Living Proof Ministries.ý
Thelma Wells
Thelma Wells is a popular author, speaker and businesswoman. As an African-American woman, Thelma was instrumental in bringing racial diversity to the Women of Faith conferences. Thelma has had her own television show, been an assistant vice president of a bank, and an inspirational public speaker/business consultant. SPANISH BIO: Thelma Wells es una conferencista popular de Women of Faith (Mujeres de fe) y presidenta de A Women of God Minsitries(Ministerios de una mujer de Dios) de Dallas, Texas. Ha recibido mas de doscientos galardones por participacion civica en la comunidad, en la iglesia
Beverly Lahaye
Beverly Lahaye is the founder of the largest women's organization in America, Concerned Women for America. The LaHayes live in southern California.
Other Titles In The "Extraordinary Women Series" Series