A Woman of Strength and Purpose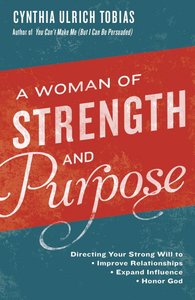 Your Strong Will Is God's Will!

As a strong-willed woman, you meet the world head-on, undeterred by those who say something can't be done. When applied in the right ways, your God-given passion produces clear-eyed purpose, deep compassion, and a bold spirit that can change the world. But sometimes your determination leads to misunderstandings and fractured relationships.

Cynthia Tobias knows firsthand the positive potential of a strong will channeled appropriately. In A Woman of Strength and Purpose, she offers practical strategies for applying your confidence and drive to enrich your friendships, career, ministry, marriage, and parenting. You'll also hear from hundreds of other women who share your strong will and the desire to use it for God.

You don't need to silence your strengths. Instead, let God use them to impact your world for good.

- Publisher
You May Also Be Interested In
About "A Woman of Strength and Purpose"
Your Strong Will Is God's Will!

As a strong-willed woman, you meet the world head-on, undeterred by those who say something can't be done. When applied in the right ways, your God-given passion produces clear-eyed purpose, deep compassion, and a bold spirit that can change the world. But sometimes your determination leads to misunderstandings and fractured relationships.

Cynthia Tobias knows firsthand the positive potential of a strong will channeled appropriately. In A Woman of Strength and Purpose, she offers practical strategies for applying your confidence and drive to enrich your friendships, career, ministry, marriage, and parenting. You'll also hear from hundreds of other women who share your strong will and the desire to use it for God.

You don't need to silence your strengths. Instead, let God use them to impact your world for good.
- Publisher


Meet the Author
Cynthia Ulrich Tobias
Cynthia Ulrich Tobias is founder and CEO of AppLe St. (Applied Learning Styles) and coordinates education and commerce programs throughout North America and internationally. She is a speaker and the best-selling author of several books including Every Child Can Succeed, Bring out the Best in Your Child, Do You Know What I Like About You? and You Can't Make Me (But I Can be Persuaded). She lives near Seattle, Washington.