A Woman's Guide to Overcoming Depression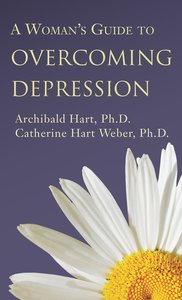 Depression in women is epidemic. It's particularly frustrating for believers who are told that Christians shouldn't feel depressed. What is a biblical perspective on depression? What causes it in women? How do you treat it? A Woman's Guide to Overcoming Depression is an up-to-date and comprehensive resource for women experiencing mild to moderate depression. It addresses types of depression, proven treatments, strategies for wellness, and God's plan for wholeness. Hart and Weber redeem depression as an opportunity for growth and change, helping readers not only to find healing but also to build resilience. A practical and inspirational resource, this book contains exercises that encourage proactive, intentional living. A special chapter for loved ones and friends helps those readers better understand depression and how to be supportive.

- Publisher
You May Also Be Interested In
About "A Woman's Guide to Overcoming Depression"
Depression in women is epidemic. It's particularly frustrating for believers who are told that Christians shouldn't feel depressed. What is a biblical perspective on depression? What causes it in women? How do you treat it? A Woman's Guide to Overcoming Depression is an up-to-date and comprehensive resource for women experiencing mild to moderate depression. It addresses types of depression, proven treatments, strategies for wellness, and God's plan for wholeness. Hart and Weber redeem depression as an opportunity for growth and change, helping readers not only to find healing but also to build resilience. A practical and inspirational resource, this book contains exercises that encourage proactive, intentional living. A special chapter for loved ones and friends helps those readers better understand depression and how to be supportive.
- Publisher


Meet the Authors
Archibald Hart
Dr. Archibald D. Hart is a clinical psychologist and senior professor of psychology and dean emeritus of the Graduate School of Psychology, Fuller Theological Seminary in Pasadena, California. He also serves as the president of the International Network for Christian Counselors. Dr. Hart is an internationally known speaker and author of twenty-four books, including Adrenalin and Stress, Stress and Your Child, Helping Children Survive Divorce, The Sexual Man and The Anxiety Cure. He and his wife, Kathleen, live very happily in Southern California, surrounded by their children and grandchildren.
Catherine Hart Weber
Archibald D. Hart, Ph.D., is licensed in the state of California as a psychologist and board certified in Psychopharmacology. He is Professor of Psychology at Fuller Theological Seminary and the author of numerous books, including "The Anxiety Cure" and "Helping Children Survive Divorce." Catherine Hart Weber, Ph.D., is a licensed marriage and family therapist, specializing in psychotherapy from a Christian perspective. The coauthor of Secrets of Eve, she writes and speaks on topics relating to marriage, parenting, sexuality, and personal wellness.