A Woman's Guide to Spiritual Warfare: How to Protect Your Home, Family and Friends From Spiritual Darkness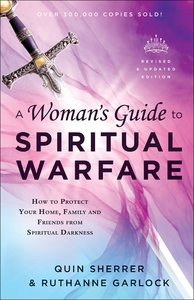 Groundbreaking Spiritual Warfare Book for Women, Now Revised and Updated

Women everywhere face battles that threaten to overwhelm them.

A friend's depression. A child's destructive choices. A neighbor's broken marriage. A husband's failed business. A bad medical report. But you don't have to watch hopelessly from the sidelines. This is a crucial time for praying women to take their stand.

In this newly revised and updated edition, you'll discover sound biblical guidelines, inspiring stories, and practical steps to help you see victory on the battlefront. As you understand your authority in the risen Christ, you will learn how to overcome forces of evil, help loved ones break cycles of bondage, and make your home a place of refuge from spiritual attack--all through the power of prayer.

Here is the field guide for every wife, mother, sister, daughter, and friend ready to fight for all she holds dear.

- Publisher
You May Also Be Interested In
About "A Woman's Guide to Spiritual Warfare: How to Protect Your Home, Family and Friends From Spiritual Darkness"
Groundbreaking Spiritual Warfare Book for Women, Now Revised and Updated

Women everywhere face battles that threaten to overwhelm them.

A friend's depression. A child's destructive choices. A neighbor's broken marriage. A husband's failed business. A bad medical report. But you don't have to watch hopelessly from the sidelines. This is a crucial time for praying women to take their stand.

In this newly revised and updated edition, you'll discover sound biblical guidelines, inspiring stories, and practical steps to help you see victory on the battlefront. As you understand your authority in the risen Christ, you will learn how to overcome forces of evil, help loved ones break cycles of bondage, and make your home a place of refuge from spiritual attack--all through the power of prayer.

Here is the field guide for every wife, mother, sister, daughter, and friend ready to fight for all she holds dear.
- Publisher


Meet the Authors
Quin Sherrer
Quin Sherrer has published 27 books, these include the best-selling How to Pray for Your Children, A Woman's Guide to Spiritual Warfare and most recently Lord, Help Me Break This Habit , she has written for many leading Christian magazines, and received numerous awards. Shes also been a guest on over 300 radio and television shows and is a speaker at weekend retreats for churches, womens groups, and military congregations.
-Editorial Review.
Ruthanne Garlock
Ruthanne Garlock is an author and international Bible teacher living near San Antonio, Texas. Together, she and Quin Sherrer have coauthored 20 books, including their best-sellers, How to Pray for Your Children and A Woman's Guide to Spiritual Warfare. Since her husband's death in 2003, Ruthanne is the only grandparent left for their four grandchildren.
-Publisher.