A Worthy Heart (#02 in Courage To Dream Series)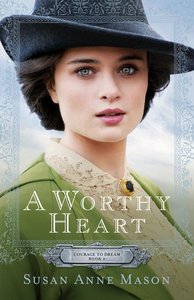 Can an Irish Lass with a Dream
for America Find True Love?

Maggie Montgomery's long-held wish to see America is finally coming true. She'll visit her beloved brother Rylan and his wife, Colleen, and at the same time, escape Neill Fitzgerald's unwanted attention. In addition, Maggie has a secret! She plans to remain in America to seek her fortune and to hopefully find love. While visiting Irish Meadows, she meets an intriguing man whom she thinks is a stable hand. Only when Rylan demands she stay away from Adam O'Leary does she realize he's Colleen's brother, recently released from prison. Nonetheless, Maggie can't seem to make her heart conform to her brother's request.

Adam O'Leary has never felt worthy of his place in the family. Spending time in jail only reinforces his belief. Now that he's free, Adam hopes to make amends and earn back his family's trust. Falling in love with Maggie Montgomery, however, was never in his plans.

Despite everyone's effort to keep them apart, the two develop a bond nothing can break--but has Adam truly changed, or will the sins of his past prove too much for Maggie to overcome?

- Publisher
You May Also Be Interested In
About "A Worthy Heart (#02 in Courage To Dream Series)"
Can an Irish Lass with a Dream
for America Find True Love?

Maggie Montgomery's long-held wish to see America is finally coming true. She'll visit her beloved brother Rylan and his wife, Colleen, and at the same time, escape Neill Fitzgerald's unwanted attention. In addition, Maggie has a secret! She plans to remain in America to seek her fortune and to hopefully find love. While visiting Irish Meadows, she meets an intriguing man whom she thinks is a stable hand. Only when Rylan demands she stay away from Adam O'Leary does she realize he's Colleen's brother, recently released from prison. Nonetheless, Maggie can't seem to make her heart conform to her brother's request.

Adam O'Leary has never felt worthy of his place in the family. Spending time in jail only reinforces his belief. Now that he's free, Adam hopes to make amends and earn back his family's trust. Falling in love with Maggie Montgomery, however, was never in his plans.

Despite everyone's effort to keep them apart, the two develop a bond nothing can break--but has Adam truly changed, or will the sins of his past prove too much for Maggie to overcome?
- Publisher


Meet the Author
Susan Anne Mason
Susan lives with her husband, two children and two cats in a suburb outside of Toronto, Ontario, Canada. In addition to writing, she works part-time as a church secretary. She is a member of American Christian Fiction Writers (ACFW) and Romance Writers of America (RWA). When not writing, Susan enjoys scrapbooking and researching her family ancestry on-line.
Other Titles In The "Courage To Dream Series" Series