A Worthy Pursuit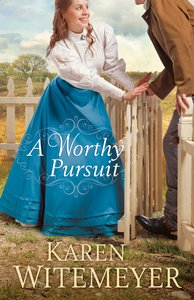 :Historical Romance to Fall in Love With

Stone Hammond is the best tracker in Texas. He never comes home empty-handed. So when a wealthy railroad investor hires him to find his abducted granddaughter, Stone eagerly accepts.

Charlotte Atherton, former headmistress of Sullivan's Academy for Exceptional Youths, will do anything to keep her charges safe, especially the little girl entrusted to her care after her mother's death. Charlotte promised Lily's mother she'd keep the girl away from her unscrupulous grandfather, and nothing will stop Charlotte from fulfilling that pledge. Not even the handsome bounty hunter with surprisingly honest eyes who comes looking for them.

When the teacher he's after produces documentation that shows she's the little girl's legal guardian, Stone must reevaluate everything he's been led to believe. Is Miss Atherton villain or victim? She acts more like a loving mother than an abductress, and the children in her care clearly adore her. Should Stone break his perfect record?

Then a new danger threatens, and Charlotte is forced to trust the man sent to destroy her. Stone becomes determined to protect what he once sought to tear apart. Besides, he's ready to start a new pursuit: winning Charlotte's heart.

- Publisher
You May Also Be Interested In
About "A Worthy Pursuit"
:Historical Romance to Fall in Love With

Stone Hammond is the best tracker in Texas. He never comes home empty-handed. So when a wealthy railroad investor hires him to find his abducted granddaughter, Stone eagerly accepts.

Charlotte Atherton, former headmistress of Sullivan's Academy for Exceptional Youths, will do anything to keep her charges safe, especially the little girl entrusted to her care after her mother's death. Charlotte promised Lily's mother she'd keep the girl away from her unscrupulous grandfather, and nothing will stop Charlotte from fulfilling that pledge. Not even the handsome bounty hunter with surprisingly honest eyes who comes looking for them.

When the teacher he's after produces documentation that shows she's the little girl's legal guardian, Stone must reevaluate everything he's been led to believe. Is Miss Atherton villain or victim? She acts more like a loving mother than an abductress, and the children in her care clearly adore her. Should Stone break his perfect record?

Then a new danger threatens, and Charlotte is forced to trust the man sent to destroy her. Stone becomes determined to protect what he once sought to tear apart. Besides, he's ready to start a new pursuit: winning Charlotte's heart.
- Publisher


Meet the Author
Karen Witemeyer
Karen Witemeyer holds a master's degree in psychology from Abilene Christian University and is a member of ACFW, RWA, and the Texas Coalition of Authors. She has published fiction in Focus on the Family's children's magazine, and has written several articles for online publications and anthologies. Tailor-Made Bride is her first novel. Karen lives in Abilene, Texas, with her husband and three children.
Customer Reviews For "A Worthy Pursuit"
Write Your Own Review
Action packed late 1800s romance
By Hayley,

Jun 19 2018
This story  is set in Texas in the 1890s. It is a romance between a Texan retriever and a school mistress, with three children in tow. The book is full of interesting and endearing characters, as well as two fightening "bad guys". The story line keeps the reader in suspense until close to the end where (spoiler!) the "good guys" win. There are some lovely themes including: the love a family by choice (rather than blood) can have; the expressive nature of music; the pursuit of love and overcoming past hurts and fears. I would recommend this book to all lovers of American western romance novels. 
---
Enjoyable Reading
By Candid,

Sep 25 2017
This book is easy to read, really captivating story from the beginging. Highly recommend!
---
warm and fun
By Ibu Guru,

Feb 27 2016
I always enjoy books that include children among the main characters and this one does not disappoint.  There was an element of mystery in it, which kept me reading.  The author has provided an interesting story with fun dialogue and  worthy lead characters so I would rate this as one of Karen's best.
---
Pleasant and Entertaining
By Laura,

Oct 23 2015
Karen's blend of romance, fun, adventure  and fabulous charcters make A Worthy Pursuit a winner! This book is absolutely lovely to read.
---
I Loved This Book
By Margot,

Sep 30 2015
Having read many other authors since last reading Karen Witemeyer, I had forgotten what an excellent writer she is, in a class above many others. The story of run-away school mistress and the three children she takes with her is delightful, with humour, romance, suspense, action and drama - everything I look for in a 5-star book. The characters are well developed,and both the key characters learn valuable life-lessons, helping the reader grow as they are entertained. The hero is magnificent, the villain is terrible, the children are dear, the heroine is sweet, and the story makes you want to read and read until it's finished. I recommend this book to all lovers of historical romance.
{{review.title}}
By {{review.author.name}},

{{review.reviewCreatedDate | date:'MMM dd yyyy'}}

{{reviewdescription}}
{{review.text}}
---