Abandoned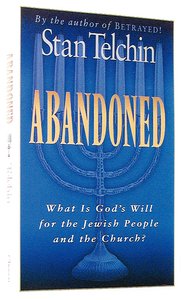 This exciting book from the author of BETRAYED challenges Christians to reach out to God's anointed people, the Jews. Telchin shares from his own experience to give a unique insight into the Jewish people and their beliefs. 256 pages, from Revell
You May Also Be Interested In
About "Abandoned"
This exciting book from the author of BETRAYED challenges Christians to reach out to God's anointed people, the Jews. Telchin shares from his own experience to give a unique insight into the Jewish people and their beliefs. 256 pages, from Revell
- Koorong

Part 1: Information You Need1. "We Can't Afford To Lose You!"2. The Greatest Battle In The Universe3. Reading The Rest Of Romans4. Let's Look At Church History5. Why The Holocaust?Part 2: Increasing Your Understanding6. Who Is A Jew?7. What Does It Mean To Be A Jew Today?8. What Do Today's Jews Believe About God And The Bible?9. What Do Today's Jews Think About Jesus?Part 3: Questions You Are Now Ready To Ask10. Do The Jewish People Really Need Jesus?11. At The Heart Of The Matter12. How Do We Reach The Jewish People?13. The Special Needs Of Jewish Believers14. What Does The Church Need To Do?A Personal NoteAppendix 1: What's Happening In Israel?Appendix 2: Denominational Judaism In AmericaAppendix 3: Agencies That Minister To Jewish People272 Pages
- Publisher

What's the problem with Messianic Judaism?Stan Telchin, a Messianic Jew and former pastor, explores in depth the heart and soul of Messianic Judaism. He exposes the motive behind its creation, its controversial doctrines and its ineffectiveness in Jewish evangelism.Messianic Judaism has grown significantly in fewer than four decades. While intended originally to appeal to Jewish people, unexpectedly it appeals primarily to Gentiles. Telchin, in following the teaching of the apostle Paul, sees Messianic Judaism as divisive. With a firm and loving approach, he addresses the dangers of this movement, reiterates God's intention for His Church to serve as "one new man" and, most importantly, advocates unity among the body of believers.Perhaps you're a pastor concerned with the enticing pull of Messianic Judaism on your congregation. Perhaps you've merely wondered about the validity of this movement. Or maybe you're a Gentile who has been made to feel less than worthy. Whatever the reason, if you believe that God sees a difference between Jews and Gentiles in the Body of Christ, then this book will help you think again."It took courage for Stan to write so pointedly from his broad and insightful experiences within the Messianic movement. Forthright and comprehensive, these chapters deal with a problem all followers of Jesus face-the desire to be accepted by those who have yet to experience God's transforming love."-Arthur F. Glasser, Ph.D., dean emeritus, School of World Mission, Fuller Theological Seminary"What Stan tells you in this book may come as a revelation. Certainly it will be controversial. Questions should arise, and much discussion should be the result."-Moishe Rosen, founder, Jews for Jesus"Whether you agree with everything he says or not, you will find the book interesting and enlightening."-D. James Kennedy, Ph.D., senior minister, Coral Ridge Presbyterian Church
- Publisher

Christians must reexamine God's Word and become equipped to reach out to and receive Jewish people with the love of God in their hearts.
- Publisher


Meet the Author
Stan Telchin
Stan Telchin is a Messianic Jew who proclaims Jesus as Messiah in the U.S. and around the world???now under the umbrella of Jews for Jesus. He pastored a nondenominational fellowship in suburban Washington DC for fourteen years. He is the author of Abandoned and Messianic Judaism Is Not Christianity. He and his wife, Elaine, live in Sarasota, Florida.
Table Of Contents