About Heaven & Hell (Sense & Nonsense Series)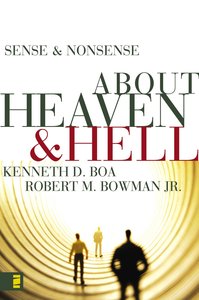 How many heavens are there-and how many hells?The original biblical languages use several words for heaven and hell that mean different things. And to make matters still more interesting, other religions and philosophies have contributed their own ideas to the mix until it's hard to separate reality from speculation, falsehood, and folklore. Sense and Nonsense about Heaven and Hell helps you cut through the clutter to see what the Bible really reveals about heaven and hell, salvation and judgment.Learn about. Jesus: the only means of understanding heaven or hell. different biblical words for heaven and hell. the fires of hell: literal or figurative?. why hell has no exit doors. what we can and can't know about heaven. God's judgment: who will go where, and whyGet ready for some surprises. This book will help you set aside your preconceptions and pierce through the myths and misinformation to gain an accurate, truly biblical perspective on heaven and hell.

- Publisher
You May Also Be Interested In
About "About Heaven & Hell (Sense & Nonsense Series)"
How many heavens are there-and how many hells?The original biblical languages use several words for heaven and hell that mean different things. And to make matters still more interesting, other religions and philosophies have contributed their own ideas to the mix until it's hard to separate reality from speculation, falsehood, and folklore. Sense and Nonsense about Heaven and Hell helps you cut through the clutter to see what the Bible really reveals about heaven and hell, salvation and judgment.Learn about. Jesus: the only means of understanding heaven or hell. different biblical words for heaven and hell. the fires of hell: literal or figurative?. why hell has no exit doors. what we can and can't know about heaven. God's judgment: who will go where, and whyGet ready for some surprises. This book will help you set aside your preconceptions and pierce through the myths and misinformation to gain an accurate, truly biblical perspective on heaven and hell.
- Publisher


Meet the Authors
Kenneth D Boa
Kenneth D. Boa (Ph.D., New York University; D.Phil., University of Oxford in England) is engaged in a ministry of relational evangelism and discipleship, teaching, writing, and speaking.
Dr. Boa is the President of Reflections Ministries, an organization that seeks to encourage, teach, and equip people to know Christ, follow Him, become progressively conformed to His image, and reproduce His life in others. He is also President of Trinity House Publishers, a publishing company that is dedicated to the creation of tools that will help people manifest eternal values in a temporal arena by drawing them to intimacy with God and a better understanding of the culture in which they live.
Recent publications by Dr. Boa include Conformed to His Image; 20 Compelling Evidences that God Exists; Face to Face; Augustine to Freud; Faith Has its Reasons; and God, I Dont Understand. He is a contributing editor to The Open Bible and the consulting editor of the Zondervan NASB Study Bible.
Robert M Bowman (Jr)
Robert M. Bowman Jr. (Ph.D. candidate, Westminster Theological Seminary) is the manager of the Apologetics & Interfaith Evangelism department of the North American Mission Board (http://www.4truth.net). For five years he was a lecturer in the M.A. in Christian Apologetics program at Biola University. He is the author of eleven other books, including Why You Should Believe in the Trinity and (with Kenneth D. Boa) the Gold Medallion Award winning book Faith Has Its Reasons and most recently Putting Jesus in his place: a case for the deity of Christ
Other Titles In The "Sense & Nonsense" Series