According to Their Deeds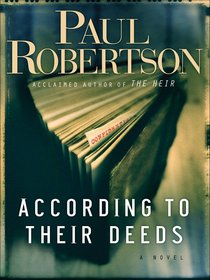 Charles Beale lives happily in the shadows of Washington, D.C., as a respectable rare-books dealer. Or mostly respectable. He has a streak of the gambler in him and when a devoted client dies--a man deeply connected to the Justice Department--Beale eagerly regains the man's book collection...and soon finds himself with more than he bid on. In one volume, Beale discovers documents incriminating a host of major political figures--blackmail material that might have led to murder. Weighing questions of justice and mercy--and with a bull's-eye on his back--Beale must untangle a complicated knot of deadly lies and dangerous secrets.

- Publisher
You May Also Be Interested In
About "According to Their Deeds"
Charles Beale lives happily in the shadows of Washington, D.C., as a respectable rare-books dealer. Or mostly respectable. He has a streak of the gambler in him and when a devoted client dies--a man deeply connected to the Justice Department--Beale eagerly regains the man's book collection...and soon finds himself with more than he bid on. In one volume, Beale discovers documents incriminating a host of major political figures--blackmail material that might have led to murder. Weighing questions of justice and mercy--and with a bull's-eye on his back--Beale must untangle a complicated knot of deadly lies and dangerous secrets.
- Publisher


Meet the Author
Paul Robertson
Paul Robertson is a computer programming consultant, part-time high-school math and science teacher, and the author of The Heir and Dark in the City of Light. He is also a former Christian bookstore owner (for 15 years), who lives with his family in Blacksburg, Virginia.