Activate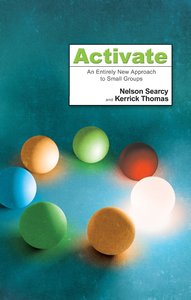 Church leaders want to know how to make small groups work for their church communities, yet a quick look around shows that while small groups are popular, much of the time they create more problems than they solve. Nelson Searcy and Kerrick Thomas, founding pastors of The Journey Church in the heart of New York City, suggest that this failure is due to widely held beliefs about small groups that just aren't true--and they aim to debunk the myths and set the record straight! Drawing from the startling success of small groups at The Journey Church, Searcy and Thomas show how church leaders can implement a life-changing small group ministry that gets the maximum number of people involved and solves many of the important problems facing churches of all sizes.

- Publisher
You May Also Be Interested In
About "Activate"
Church leaders want to know how to make small groups work for their church communities, yet a quick look around shows that while small groups are popular, much of the time they create more problems than they solve. Nelson Searcy and Kerrick Thomas, founding pastors of The Journey Church in the heart of New York City, suggest that this failure is due to widely held beliefs about small groups that just aren't true--and they aim to debunk the myths and set the record straight! Drawing from the startling success of small groups at The Journey Church, Searcy and Thomas show how church leaders can implement a life-changing small group ministry that gets the maximum number of people involved and solves many of the important problems facing churches of all sizes.
- Publisher


Meet the Authors
Nelson Searcy
Nelson Searcy served as the director of The Purpose Driven Community at Saddleback Church before starting The Journey Church of the City in New York City in 2002. He and his 1200-member church appear routinely on lists such as The 50 Most Influential Churches and The 25 Most Innovative Leaders.
His newsletter for pastors and church leaders, Church Leader Insights, now reaches more than 40,000 subscribers and continues to grow by hundreds each month. Searcy lives in New York City and recently had published Ignite: How to Spark Immediate Growth in Your Church; The Generosity Ladder: Your Next Step to Financial Peace and Maximize: How to Develop Extravagant Givers in Your Church.
Kerrick Thomas
Gary Thomas is Writer in Residence at Second Baptist, Houston, and an adjunct faculty member at Western Seminary in Portland Oregon. He is the author of over a dozen books, including Sacred Marriage, Sacred Pathways, Pure Pleasure, Sacred Parenting, and the Gold Medallion Award-winning Authentic Faith.