Activating the Gifts of the Holy Spirit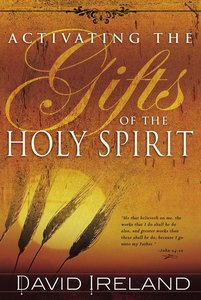 God's plan for you is that the gifts He has given you become evident in every area of your life. In this dynamic book, David Ireland shows how you can activate the power of the Holy Spirit in your everyday walk with God. Discover how you can understand what the gifts of the Spirit are, hear the voice of the Holy Spirit, know God's heart in every spiritual matter, be miraculously used by God, have authority over Satan's tricks and deceptions, and possess the power of the early church. Learn how you can experience the fullness of God's power by operating in the realm of the supernatural!

- Publisher
You May Also Be Interested In
About "Activating the Gifts of the Holy Spirit"
God's plan for you is that the gifts He has given you become evident in every area of your life. In this dynamic book, David Ireland shows how you can activate the power of the Holy Spirit in your everyday walk with God. Discover how you can understand what the gifts of the Spirit are, hear the voice of the Holy Spirit, know God's heart in every spiritual matter, be miraculously used by God, have authority over Satan's tricks and deceptions, and possess the power of the early church. Learn how you can experience the fullness of God's power by operating in the realm of the supernatural!
- Publisher


Meet the Author
David Ireland
Dr. Geoffrey Lawday currently holds the Tektronix Chair in Measurement at Buckinghamshire New University where he teaches embedded system design and high performance computing in the School of Computing. Having gained a BSc in Physics and an MSc in Computer Engineering at Surrey University he was awarded a PhD in Time-Frequency Signal Analysis from Brunel University. His research in signal integrity engineering is reflected in his publications, such as the critique on the introduction of the new serial buses published in the flagship journal of the Institution of Electrical Engineers. David Ir
Table Of Contents
God's Plan For You Is That The Gifts He Has Given You Become Evident In Every Area Of Your Life. In This Dynamic Book, David Ireland Shows How You Can Activate The Power Of The Holy Spirit In Your Everyday Walk With God. Discover How You Can Understand What The Gifts Of The Spirit Are, Hear The Voice Of The Holy Spirit, Know God's Heart In Every Spiritual Matter, Be Miraculously Used By God, Have Authority Over Satan's Tricks And Deceptions, And Possess The Power Of The Early Church. Learn How You Can Experience The Fullness Of God's Power By Operating In The Realm Of The Supernatural!