Acts of the Apostles (Fortress Biblical Peaching Commentaries Series)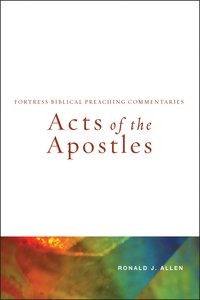 Acts of the Apostles helps the preacher identify possibilities for sermons based on texts and themes in the book of Acts. While offering a basic exegetical framework for interpreting passages in Acts in their historical, literary, rhetorical, and theological contexts, this volume also suggests ways in which the preacher can relate passages and motifs from Acts to the congregation and world today. It also is useful in classes that seek to link text and sermon, and for congregational Bible study.
Throughout his commentary, Ron Allen examines the relationship of Acts to the Gospel of Luke, discussing parallel passages between the two volumes and observing how themes in the Gospel carry forward into Acts. He notes how particular passages contribute to developing themes and to how the awareness of such a theme can contribute to the preacher's work with a particular passage.

- Publisher
You May Also Be Interested In
About "Acts of the Apostles (Fortress Biblical Peaching Commentaries Series)"
Acts of the Apostles helps the preacher identify possibilities for sermons based on texts and themes in the book of Acts. While offering a basic exegetical framework for interpreting passages in Acts in their historical, literary, rhetorical, and theological contexts, this volume also suggests ways in which the preacher can relate passages and motifs from Acts to the congregation and world today. It also is useful in classes that seek to link text and sermon, and for congregational Bible study.
Throughout his commentary, Ron Allen examines the relationship of Acts to the Gospel of Luke, discussing parallel passages between the two volumes and observing how themes in the Gospel carry forward into Acts. He notes how particular passages contribute to developing themes and to how the awareness of such a theme can contribute to the preacher's work with a particular passage.
- Publisher


Meet the Author
Ronald J Allen
Ronald J. Allen (Ph.D. from Drew University) is Nettie Sweeney and Hugh Th. Miller Professor of Preaching and New Testament at Christian Theological Seminary, Indianapolis. In addition to over 100 articles and chapters in books Allen is the author of almost thirty books.From 2000-2004, he directed one of the first studies of people who listen to sermons to determine the qualities in preaching that encourage people to pay attention to the sermon and qualities that discourage them from doing so. This project, funded by the Lilly Endowment, is generating four books. Listening to Listeners: Homiletic Case Studies (jointly authored with Dale P. Andrews, L. Susan Bond, John S. McClure, Dan P. Moseley, and G. Lee. Ramsey, Jr.) (2004), Hearing the Sermon: Relationship, Content, Feeling, Believing in Preaching: What Laity Think about Sermons(coauthored with Mary Alice Mulligan, Diane Turner-Sharazz and Dawn Ottoni Wilhelm) and, with Mary Alice Mulligan, Make the Word Come Alive: Lessons from Laity. Other recent books are Wholly Scripture: Preaching Themes from the Bible, along with Preaching is Believing: The Sermon as Theological Reflection , as well as Preaching: An Essential Guide.
Other Titles In The "Fortress Biblical Peaching Commentaries Series" Series View All