Adam and the Genome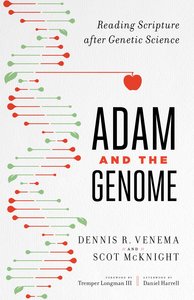 Genomic science indicates that humans descend not from an individual pair but from a large population. What does this mean for the basic claim of many Christians: that humans descend from Adam and Eve?
Leading evangelical geneticist Dennis Venema and popular New Testament scholar Scot McKnight combine their expertise to offer informed guidance and answers to questions pertaining to evolution, genomic science, and the historical Adam. Some of the questions they explore include:

- Is there credible evidence for evolution?
- Do we descend from a population or are we the offspring of Adam and Eve?
- Does taking the Bible seriously mean rejecting recent genomic science?
- How do Genesis's creation stories reflect their ancient Near Eastern context, and how did Judaism understand the Adam and Eve of Genesis?
- Doesn't Paul's use of Adam in the New Testament prove that Adam was a historical individual?

The authors address up-to-date genomics data with expert commentary from both genetic and theological perspectives, showing that genome research and Scripture are not irreconcilable. Foreword by Tremper Longman III and afterword by Daniel Harrell.

- Publisher
You May Also Be Interested In
About "Adam and the Genome"
Genomic science indicates that humans descend not from an individual pair but from a large population. What does this mean for the basic claim of many Christians: that humans descend from Adam and Eve?
Leading evangelical geneticist Dennis Venema and popular New Testament scholar Scot McKnight combine their expertise to offer informed guidance and answers to questions pertaining to evolution, genomic science, and the historical Adam. Some of the questions they explore include:

- Is there credible evidence for evolution?
- Do we descend from a population or are we the offspring of Adam and Eve?
- Does taking the Bible seriously mean rejecting recent genomic science?
- How do Genesis's creation stories reflect their ancient Near Eastern context, and how did Judaism understand the Adam and Eve of Genesis?
- Doesn't Paul's use of Adam in the New Testament prove that Adam was a historical individual?

The authors address up-to-date genomics data with expert commentary from both genetic and theological perspectives, showing that genome research and Scripture are not irreconcilable. Foreword by Tremper Longman III and afterword by Daniel Harrell.
- Publisher


Meet the Authors
Scot Mcknight
Scot McKnight (Ph.D., University of Nottingham) is the Karl A. Olsson Professor in Religious Studies at North Park University. Prior to joining the NPU faculty in 1994, he was a professor at Trinity Evangelical Divinity School. He has written widely on the historical Jesus, Christian spirituality, and the Emerging Church. One of McKnight's more popular books, The Jesus Creed, won the Christianity Today's book award for 2004 in the area of Christian living. McKnight's blog, JesusCreed.org, has been a popular site for Emerging Church discussion.
His other publications include: The Real Mary: Why Evangelical Christians Can Embrace the Mother of Jesus; Praying with the Church: Following Jesus Daily, Hourly, Today; Jesus and His Death: Historiography, the Historical Jesus, and Atonement Theory; Embracing Grace: A Gospel for All of Us; Turning to Jesus: The Sociology of Conversion in the Gospels; The Story of the Christ, with Philip Law; and 1 Peter and Galatians in NIV Application Commentary.
His most recent publications include The Blue Parakeet: Rethinking How You Read the Bible and James (New International Commentary on the New Testament).
Table Of Contents
Genomic Science Indicates That Humans Descend Not From An Individual Pair But From A Large Population. What Does This Mean For The Basic Claim Of Many Christians: That Humans Descend From Adam And Eve?
Leading Evangelical Geneticist Dennis Venema And Popular New Testament Scholar Scot Mcknight Combine Their Expertise To Offer Informed Guidance And Answers To Questions Pertaining To Evolution, Genomic Science, And The Historical Adam. Some Of The Questions They Explore Include:

- Is There Credible Evidence For Evolution?
- Do We Descend From A Population Or Are We The Offspring Of Adam And Eve?
- Does Taking The Bible Seriously Mean Rejecting Recent Genomic Science?
- How Do Genesis's Creation Stories Reflect Their Ancient Near Eastern Context, And How Did Judaism Understand The Adam And Eve Of Genesis?
- Doesn't Paul's Use Of Adam In The New Testament Prove That Adam Was A Historical Individual?

The Authors Address Up-to-date Genomics Data With Expert Commentary From Both Genetic And Theological Perspectives, Showing That Genome Research And Scripture Are Not Irreconcilable. Foreword By Tremper Longman Iii And Afterword By Daniel Harrell.