Adventures in Saying Yes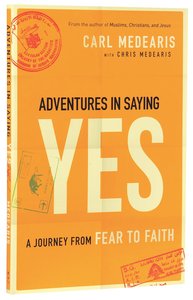 :Experience the Adventure of a Life without Fear

This is the story of a normal family of five that has lived a very unusual life. The Medearis family has had to deal with Middle Eastern prisons, death threats, being kicked out of two countries, war, and even death. It hasn't always been easy, but in the midst of it all, God never left their side.

But overcoming fear and living a life of wonder and bold faith is not just for other people halfway around the world. God wants each one of us to live to the full, wherever we are, not letting doubt and worry stand in our way. This is a manual to help you begin your own adventure. It's a call to live a life free of fear. To boldly do what God is calling you to do--wherever you are.

- Publisher
You May Also Be Interested In
About "Adventures in Saying Yes"
:Experience the Adventure of a Life without Fear

This is the story of a normal family of five that has lived a very unusual life. The Medearis family has had to deal with Middle Eastern prisons, death threats, being kicked out of two countries, war, and even death. It hasn't always been easy, but in the midst of it all, God never left their side.

But overcoming fear and living a life of wonder and bold faith is not just for other people halfway around the world. God wants each one of us to live to the full, wherever we are, not letting doubt and worry stand in our way. This is a manual to help you begin your own adventure. It's a call to live a life free of fear. To boldly do what God is calling you to do--wherever you are.
- Publisher


Meet the Authors
Carl Medearis
Carl Medearis has extensive experience working and living with Muslims. A highly sought-after Islamic expert, he works with international government and business leaders and speaks at conferences and universities to 40,000 people annually. After 12 years of living in Beirut, Lebanon, Carl and his family now make their home in Colorado Springs.


He is the author of Speaking of Jesus: The Art of Not-Evangelism; Muslims, Christians, and Jesus: Gaining Understanding and Building Relationships and Tea with Hezbollah: Sitting at the Enemies Table Our Journey Through the Middle East with Ted Dekker
Chris Medearis
Thirty years of living in and traveling to the Middle East have given Carl Medearis a true insider's view of the region, making him one of a handful of American expert voices in the field of Arab-American and Muslim-Christian relations.<BR><BR>Carl serves as a catalyst for a number of current movements in the Middle East that come together around the life and teaching of Jesus of Nazareth in order to promote peacemaking, as well as cultural, political, and religious dialogue leading toward understanding and reconciliation. He is the author of the acclaimed books on these issues: "Muslims, Chri