Adventures in the Prophetic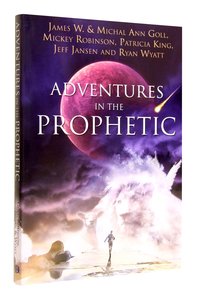 Warfare Prayer provides a toolbox and an operator's manual for those who take seriously the Apostle Paul's statement that "we wrestle not against flesh and blood but against principalities and powers." The demonic world around us is a reality, but all too few believers understand that realm of darkness to say nothing of having the skills to use effectively the weapons of warfare that God has given us. Based on a combination of sound biblical theology and real life experiences, this book is a user-friendly guide for those committed enough to join the army of God.

- Publisher
You May Also Be Interested In
About "Adventures in the Prophetic"
Warfare Prayer provides a toolbox and an operator's manual for those who take seriously the Apostle Paul's statement that "we wrestle not against flesh and blood but against principalities and powers." The demonic world around us is a reality, but all too few believers understand that realm of darkness to say nothing of having the skills to use effectively the weapons of warfare that God has given us. Based on a combination of sound biblical theology and real life experiences, this book is a user-friendly guide for those committed enough to join the army of God.
- Publisher


Meet the Authors
James W Goll
James W. Goll is the cofounder of Encounter Network, a ministry to the nations. He has written fifteen extensive Bible study guides and is the author or co-author of nearly a dozen books, including Kneeling on the Promises,The Coming Prophetic Revolution and Praying for Israel's Destiny. Goll is a contributing editor to Kairos magazine and speaks and ministers around the world. He and his wife, Michal Ann, live in Franklin, Tennessee.
Michal Ann Goll
Dr. JAMES W. GOLL is the cofounder of Encounters Network, Director of PrayerStorm, and coordinates Encounters Alliance, a coalition of leaders. He has shared Jesus in more than 40 nations worldwide teaching and imparting the power of intercession, prophetic ministry, and life in the Spirit. ý James is the author of numerous books including "PrayerStorm, Angelic Encounters, Prophetic Intercessor "and "The Seer". He has also produced multiple Study Guides and hundreds of audio messages. James is also a contributing writer to "Kairos" magazine and several other periodicals. He is involved as a

Jeff Jansen
Jeff Jansen, founder of Global Fire Ministries, Is a revivalist whose ministry of faith, power and revelation has affected the lives of thousands. Jeff's burning desire is to see churches, cities, regions and whole nations completely transformed by the power of God. Jeff flows in a strong prophetic and miracle healing anointing and releases the Glory of God in fresh fire everywhere he goes. Supernatural explosions of heaven often manifest in the atmosphere with tangible signs of glory and many being healed and delivered. Jeff teaches trains and equips believers how to live and move in the supernatural presence of God and emphasizes that communion and intimacy with the Holy Spirit is vital for transformation in our lives.
Mickey Robinson
After surviving severe burns ... resulting from an airplane crash while skydiving, Mickey Robinson had a Death's Door experience and spiritual rebirth that radically changed his life. For the past 25 years, Mickey has had a public ministry speaking in churches and to various groups of people. He shares the reality of God's power to change people's lives. Mickey presently serves as a Director of Prophetic Christian Ministries Association, President of the Lazarus Foundation, a care and discipleship center for the physically challenged, and Seagate Ministries. Seagate Ministries is located in Franklin, Tennessee, where Mickey resides with his wife Barbara and their children.
Patricia King
Patricia King is a prophet, teacher, preacher and internationally recognised author. She is also host of the weekly TV show Extreme Prophetic, a revolutionary concept in religious broadcasting. Her passion is to train, equip and inspire believers to witness miracles and wonders of Jesus Christ throughout the world. Her ministry provides resources at www.extremeprophetic.com.
Ryan Wyatt
Ryan Wyatt hosts the television show ldquo;Abiding Glory with Ryan Wyatt,rdquo; and is the founder and senior leader of Abiding Glory Church and International Ministry Base in Knoxville, Tennessee. He has an apostolic calling to raise up believers to establish and expand the Kingdom of God ldquo;on earth as it is in Heaven.rdquo; He and his wife, Kelly, and their three sons live in Knoxville.