African Christian Ethics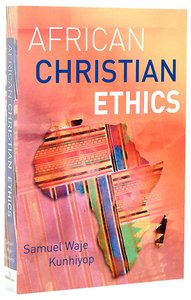 This is an introduction to African Christian Ethics for Christian colleges and Bible schools. The book is divided into two parts. The first part deals with the theory of ethics, while the second discusses practical issues. The issues are grouped into the following six sections: Socio-Political Issues, Financial Issues, Marriage Issues, Sexual Issues, Medical Issues, and Religious Issues. Each section begins with a brief general introduction, followed by the chapters dealing with specific issues in that area. Each chapter begins with an introduction, discusses traditional African thinking on the issue, presents an analysis of relevant biblical material, and concludes with some recommendations. There are questions at the end of each chapter for discussion or personal reflection, often asking students to reflect on how the discussion in the chapter applies to their ministry situation.

- Publisher
You May Also Be Interested In
About "African Christian Ethics"
This is an introduction to African Christian Ethics for Christian colleges and Bible schools. The book is divided into two parts. The first part deals with the theory of ethics, while the second discusses practical issues. The issues are grouped into the following six sections: Socio-Political Issues, Financial Issues, Marriage Issues, Sexual Issues, Medical Issues, and Religious Issues. Each section begins with a brief general introduction, followed by the chapters dealing with specific issues in that area. Each chapter begins with an introduction, discusses traditional African thinking on the issue, presents an analysis of relevant biblical material, and concludes with some recommendations. There are questions at the end of each chapter for discussion or personal reflection, often asking students to reflect on how the discussion in the chapter applies to their ministry situation.
- Publisher


Meet the Author
Samuel Waje Kunhiyop
Samuel Waje Kunhiyop professor at the Evangelical Church of West Africa Theological Seminary in Nigeria, and the author African Christian Ethics.
Table Of Contents
Part One: Ethical Foundations

1. Foundations Of African Ethics

2.foundations Of Western Ethics

3. Foundations Of Christian Ethics

4. Foundations Of African Christian Ethics

Part Two: Contemporary Ethical Issues

Section A: Socio-political Issues

Church And State

Ethnic And Religious Conflicts

Section B: Financial Issues

Poverty

Corruption Bribery And Extortion

The Ethics Of Fundraising

Section C: Marriage Issue

Infertility

Reproductive Technologies

Contraceptives

Polygamy

Domestic Violence

Divorce And Remarriage

Treatment Of Widows And Orphans

Section D: Sexual Issues

Homosexuality

Rape

Incest

Prostitution And Sex Trafficking

Female Circumcision

Section E: Medical Issues

Hiv/aids

Abortion

Euthanasia And Infanticide

General Strikes And The Medical Profession

Drug And Alcohol Addiction

Section F: Religious Issues

Witchcraft

Conclusion

Bibliography